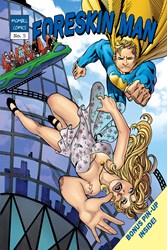 As strange as it sounds, and without the knowledge of most parents, some infant foreskins are actually sold for profit after they are forcefully amputated from infants
San Diego, CA (PRWEB) December 04, 2013
Foreskin Man returns to America in the fifth comic book published by MGMbill.org, a California based group working to legally protect boys from forced circumcision. In this episode, Foreskin Man takes aim at BioFlesh International, the world's largest supplier of infant foreskins and other gray market body parts.
With infant circumcision rates plummeting, BioFlesh International is scrambling to keep product in stock for their growing foreskin trafficking business. To make matters worse, the Museum of Genital Integrity is unveiling a new "Instruments of Torture" circumcision exhibit to scare off would-be baby cutters. Does this spell the end of BioFlesh? Not if CEO Max Warmong can help it.
"Foreskin Man #5: BioFlesh" is written by Matthew Hess, who is also the president of MGMbill.org. Hess commissioned three artists to illustrate the vertigo-inducing story that features the return of intactivist Aurora Tattington and the introduction of her young son, Tito.
"As strange as it sounds, and without the knowledge of most parents, some infant foreskins are actually sold for profit after they are forcefully amputated from infants," said Hess. "One popular use for foreskins is women's anti-wrinkle face cream (1). So while hundreds of thousands of U.S. boys suffer from male genital mutilation each year, American companies profit from their pain and disfigurement."
Other uses for foreskin fibroblasts include cosmetic test samples (2), skin grafts (3), and even treatments for baldness (4). Although the buying and selling of infant foreskins has been going on for decades, parents are typically unaware that the business practice provides a hidden incentive for hospitals and clinics to peddle a surgery that the Royal Dutch Medical Association calls "a violation of children's rights to autonomy and physical integrity".
"Foreskins taken from infant males are stolen property," said Hess. "The only person who can consent to the removal or sale of a body part is the owner himself, and the U.S. government needs to act now to pass legislation that protects boys from forceful circumcision."
Until then, it's up to Foreskin Man to rescue these innocent babies from the scalpel. Foreskin Man #5 is available to read and download for free at http://www.foreskinman.com. Printed copies may also be purchased online or ordered through a local comic book store.
Sources:
(1) Toronto Sun, Oprah protested for endorsing face cream made from foreskins, January 23, 2013.
(2) Medindia, Using Human Foreskin, Not Lab Rats for the "Greening" of Cosmetics, April 5, 2010.
(3) San Diego CityBeat, The $140-million foreskin, January 19, 2010.
(4) Business Standard, Circumcised foreskins may provide new baldness treatment, October 21, 2013.
(5) Royal Dutch Medical Association (KNMG), Non-therapeutic circumcision of male minors, May 27, 2010.