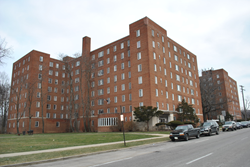 'The amount of Out of State and even International interest in the Northeast Ohio Apartment Market is staggering, a real testament to all of the Positive momentum which has recently happened in the area,' said Matthew King, CCIM
East Cleveland, Ohio (PRWEB) October 10, 2015
Out of State Interest in the Northeast Ohio Apartment market continues to grow rapidly. "Of all of the Multi Family transactions I have had the pleasure to work on in the last 8-10 months, none have Sold to local buyers. The amount of Out of State and even International interest in the Northeast Ohio Apartment Market is staggering, a real testament to all of the Positive momentum which has recently happened in the area," said Matthew King, CCIM.
The 174 Unit, 128,000+/- square feet Forest Hills Park Apartment Complex, located on 1.479 Acres at 13995 and 14015 Superior Road, East Cleveland, Ohio, has transferred ownership. The property was built in 1949 and consists of two eight story apartment buildings containing a total of 174 units divided as 31 one bedroom units, 115 two bedroom units and 28 three bedroom units with an attached 102 space Indoor Parking garage. Matthew King, CCIM of Green Bridge Real Estate, recently represented the seller, Marengo Heights, LLC, in the sale of the 93% Occupied, Multi-Family Asset for the full asking price of $3,750,000 or $21,551 per unit to LEDAHF- East Cleveland LLC, a Delaware company, which transferred on Friday, September 25th, 2015.
"From the initial marketing to the day we closed this sale," said Marengo Heights, LLC Partner Denis J. Hickey, "Matt King from Green Bridge Real Estate was an innovative, hard-working, consummate professional. He made this transaction turn out as smoothly as it did. His approach to marketing the property to out-of-state buyers was creative and effective. His use of video helped our building stand out and allowed prospective buyers to see the many features that make it an attractive long-term investment -- features that are not immediately apparent at first look."
"We considered using other realtors," Mr. Hickey continued, "but none of them came close to the level of enthusiasm and energy that Matt King brought to the table. My business partner and I are very satisfied with the work Mr. King did on behalf of Marengo Heights, LLC."
THE PURCHASER & TEAM
LEDAHF – East Cleveland, LLC, a Delaware limited liability company, is a newly created single asset entity, of which Linked Economic Development & Affordable Housing Foundation Inc. (LEDAHF), a Virginia 501(c)3 designated non-profit organization, is the sole member.
LEDAHF's mission is to:
1. Promote the availability of affordable housing and to sponsor, acquire, develop, own, manage, and operate affordable rental housing for families, seniors, and disabled individuals;
2. Promote local economic development; and
3. To otherwise relieve the burdens of government. LEDAHF has helped local government finance and construct new county buildings, public schools, parks, senior centers, animal shelters, and other needed community facilities. LEDAHF can frequently deliver these facilities more efficiently, more quickly, and at lower costs than the government can.
Alliance Fund Management, LLC (AFM), a Georgia based intermediary for socially responsible funding, structured and facilitated the financing for the transaction.
The project will be managed by LEDIC Management Group, LLC, a Tennessee limited liability company that is headquartered in Memphis, Tennessee. LEDIC currently manages more than 40,000 multifamily units located across the United States.
BOND FINANCING
The acquisition and improvements to the property were financed utilizing rated tax-exempt multifamily housing revenue bonds. The Cleveland-Cuyahoga County Port Authority acted as issuer on the bonds. Standard & Poor's Ratings Services assigned an "A-" rating to the senior bonds totaling $5,460,000. Subordinate bonds in the amount of $480,000 received a "BBB" rating. The total amount of Multifamily Housing Revenue Bonds Issued by the Cleveland-Cuyahoga County Port Authority was $5,940,000.
The Bonds were purchased by the underwriters, Raymond James & Associates, Inc. and CFG Capital Markets, LLC.
Per LEDAHF's mission and certain conditions in the financing, the owner will be obligated to lease at least 75% of the dwelling units in the property to Low and Moderate Income tenants.
The new ownership will immediately takeover operation of the Apartments and are thrilled with their first purchase in Northeast Ohio and the opportunity the property and location presents.
The Forest Hills Park Apartments are minutes from the Cleveland Clinic's Main Campus, Case Western Reserve University and is bordered to the North by the 2.2 square mile Forest Hills Park which formerly served as John D. Rockefeller's summer home. The City of East Cleveland serves as a major public transportation center with approximately one-third of the Greater Cleveland Regional Transit Authority bus routes beginning or ending inside the city.
Matthew S. King, CCIM, a Licensed Ohio Real Estate Broker, is a Multi-Family Sales expert and has successfully assisted in the Sale of over 400 Multi-Family Units in Northeast Ohio over the last 36 months totaling close to Ten Million Dollars.
Green Bridge Real Estate, a Full Service Commercial Real Estate Broker, is located on West 140th St. & Brookpark Road in Brook Park and is owned and operated by Matthew King, CCIM and John Wagner.