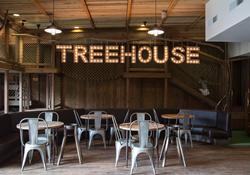 Guests will be able to order made-from-scratch, locally sourced grab-and-go items at the counter, while their children get to play in the Treehouse.
Los Altos, CA (PRWEB) February 06, 2014
Forest on First, a new play cafe concept, is opening its doors in Los Altos on February 12. Step inside the cafe and be transformed into a beautiful woodland space inclusive of a custom-made Treehouse play structure for children. The Treehouse was designed and built by Barbara Butler and her team using hand-crafted redwood and eucalyptus. There is a tunnel that winds above the entrance of the restaurant to allow children to roam from one end to the other.
The Forest kitchen will serve up a truly exciting and innovative menu pioneered by Executive Chef, Tyler Morrish, former sous chef at Michelin ranked Osteria Coppa, who has a passion for using fresh, seasonal produce to create made-from-scratch dishes. His vision for Forest on First includes a twist on cafe classics by incorporating California flavor and using locally sourced produce from the Bay Area. The menu will feature items such as a Dutch Pancake with blueberries and house butter, French Toast stuffed with dried fruit compote and berry pear sauce, Seared Brussels Sprouts Salad with mustard lemon vinaigrette, Albacore Tuna Conserva Sandwich with preserve lemon and castelvetrano, among many other selections. Tyler will be pressing fresh juices daily and will be doing his own pickling, cured meats, cultured butter and fresh farmer's cheese.
Proprietors Mary and Brian Heffernan, both Los Altos residents and owners of The H&H Company businesses such as Bumble, The Makery and The Botanist, knew Tyler would be perfect for their new concept due to his love of pairing fresh, seasonal produce with made-from-scratch ingredients.
"We're extremely excited about the opening of our new cafe, Forest on First, in February," says co-owners, Mary and Brian Heffernan. "As with all of our businesses we wanted to create a space where families can come and enjoy each other's company, meet new people or hang out with old friends. What's different about Forest is that guests will be able to walk up and order made-from-scratch, locally sourced grab-and-go items at the counter, while their children get to play in the Treehouse. Forest on First is a great addition to the Los Altos community and we can't wait for you to check it out."
Forest on First, located at 129 First Street in Los Altos, CA, will be open for breakfast and lunch daily 7am to 5pm and offering Family Fare complete take-home meals nightly. For more information visit forestonfirst.com and follow us on facebook at facebook.com/forestonfirstdtla and instagram @forestonfirst.