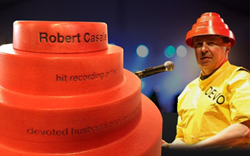 This is the first time I've seen a smile on the family's face since Bob passed. - Michael Pilmer, Band Manager
Minneapolis, MN (PRWEB) July 14, 2014
How did a Minnesota organization that creates custom 3D printed urns get personally invited to Devo's exclusive California show featuring late guitarist and keyboardist Bob Casale's son?
When Devo's co-founder passed away, the Foreverence team was inspired to create a custom urn that represents one of Bob's greatest passions, his music. Bob's family worked with Foreverence through their design process of Envision, Design, Create to develop a memorial keepsake like no other. Pete Saari, Co-Founder of Foreverence stated, "The object was both obvious and iconic. I just simply could not get past the fact that he was a cutting edge artist associated with an incredibly iconic image." That image? The red Energy Dome hat that Devo made famous.
"Your efforts filled a pressing need and provided an appropriate, custom made resting place for Bob's ashes. I can't thank you enough for bringing a little positive into these dark days for us." -Devo Founder.
Seeking to reimagine how a custom memorial or urn could transform a difficult time, co-founders Pete Saari, Wally Danielson and Noah Miwa knew from the moment they began that it wasn't about the technology used to create the urns, but the design process behind it all. "We want to be remembered for the life we led— our experiences, triumphs and everyday actions that made us unique," states co-founder, Pete Saari. Foreverence is evoking change by asking a simple question: How Do You Want to Be Remembered?
"This has always been about helping people discover life's greatest meaning. We welcome the opportunity to help customers and funeral service providers alike, elevate the conversation to appropriate expressions of legacy." - Pete Saari, Co-Founder, Foreverence
The Funeral Home and cremation market has completely changed. Ask any Funeral Director and you'll likely hear about the recent Olson-Zaltman Associates Study. People are taking a more practical and pragmatic approach to and end of life choices. Cremation is just now surpassing traditional burial in the US and most industry experts believe it will reach 70% in the next few years.
About Foreverence:
What is the perfect tribute to an extraordinary life? Foreverence captures the unique traits of an individual by creating a one-of-a-kind 3D printed urn that celebrates their unique legacy. Memorial keepsake urn materials range from ceramic, metals and a variety of composites. The outcome is an exceptional, individually crafted, work of art. A memento as unique as the life it represents. Find out more at: foreverence.com and you can download the press kit here.