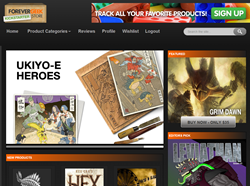 Crowd funded geek products made and funded by geeks for geeks
(PRWEB) December 10, 2013
Anyone who likes browsing Kickstarter for geek culture projects understands that the crowdfunding site is a little disorganized and hard to navigate. That's why ForeverGeek.com has launched the ForeverGeek Kickstarter store, an online store dedicated to collecting and selling successfully-funded Kickstarter projects.
The ForeverGeek Kickstarter store is a fully-loaded, one-stop shop for geek culture-inspired Kickstarter projects, packed with products financed by nerdfolk like you.
Browse eight categories packed with released Kickstarter products, including comic books, video games, music, technology, board and card games, and more.
The community focus is another huge part of what makes the ForeverGeek Kickstarter store work so well. Fill out your profile with basic information including social media accounts, save items to your wishlist so that you can track products to buy later, and add product reviews with just a few clicks.
Of course, one of the biggest reasons behind the ForeverGeek Kickstarter store is to help the Kickstarter creators themselves! ForeverGeek wants to help the independent creators who might not know much about how to market their funded projects after they're completed and to give them a platform for getting exposure and selling their products.
Right now, the ForeverGeek Kickstarter store is the only website of its kind with this kind of optimal functionality. Sure, it's a niche market but that's part of its appeal. Where else are you going to find such a strong community as passionate about geek culture Kickstarter projects? And that's so well-organized and easy to use? While you're thinking about that, check out the store:
About Splashpress Media
Founded in 2006, with over 100 new media-related sites including Forevergeek, Splashpress Media have quickly evolved into a significant new media company focusing primarily on ways to help the modern publisher succeed, whether that be through monetization, publishing tips, useful software, social media, business consultancy or web applications.
If you'd like more information about this topic, or to schedule an interview please contact David Jones:
dave(at)splashpress(dot)com
Skype: davejonesbkk
Cell: +66925635826