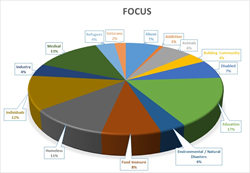 "Giving back is a way of life at ForeverGreen," said Shera Hawkes, Director of Community Stands.
Pleasant Grove, Utah (PRWEB) October 02, 2014
ForeverGreen Worldwide Corporation (OTCBB: FVRG), a leading provider of nutritional foods and other healthy products, has allied with multiple non-profit and charitable organizations to help people of all needs and demographics.
Each month, ForeverGreen focuses on a specific social issue or area of need. In July, the company "remembered our heroes" through work with the Wounded Warrior Project (US), Combat Stress (UK) and Afflicted War Heroes (Utah). In August, the company dedicated its time and donations to organizations like Wild Animal Sanctuary (US) to support animal care as well as Heifer International, which brings sustainable agriculture and commerce – through animals – to communities with a history of poverty. Last month, ForeverGreen worked to eliminate illiteracy by partnering with Project Read (Utah) and Mission Enfance (International).
"Giving back is a way of life at ForeverGreen," said Shera Hawkes, Director of Community Stands. "We believe that the way to change the world for the better is one heart, one individual at a time."
Other corporate activities include blood drives, volunteering with Habitat for Humanity and bringing lunches to local firemen. Graphs illustrating the company's charitable focuses, reach and the demographics of those helped are available.
ForeverGreen Worldwide Corporation develops, manufactures and distributes an expansive line of all natural whole foods and products to North America, Australia, Europe, Asia and South America, including their new global offerings, PowerStrips and SolarStrips. They also offer Azul and FrequenSea(TM) whole-food beverages with industry exclusive Marine Phytoplankton, the Versativa line of hemp-based whole-food products, immune support and weight management products, Pulse-8 powdered L-arginine formula, TRUessence(TM) Essential Oils and Apothecary, 24Karat Chocolate(R) and an entire catalog of meals, snacks, household cleaners and personal care products.
Forward-Looking Statement
This press release contains certain forward-looking statements. Investors are cautioned that certain statements in this release are "forward-looking statements" and involve both known and unknown risks, uncertainties and other factors. Such uncertainties include among others, certain risks associated with the operation of the company described above. The company's actual results could differ materially from expected results.