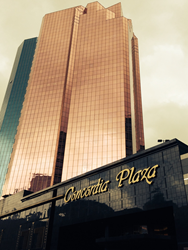 Pleasant Grove, Utah (PRWEB) October 22, 2014
ForeverGreen Worldwide Corporation (OTCBB: FVRG), a leading direct marketing company and provider of health-centered products, today announced the opening of its office in Hong Kong, as well as the appointment of Steven Wu as the new general manager in the region.
Mr. Wu has 18 years of professional experience in direct marketing and sales. He has worked for multiple companies with extensive product lines, where his roles included chief marketing officer, senior marketing manager and general manager. Mr. Wu was responsible for the creation of various distribution teams to increase sale volume and establishing new markets. He has hosted leadership meetings, and he will grow sales volume in China, Hong Kong and Taiwan.
As an effective manager at other large multinational companies in the region, Mr. Wu has implemented several successful sales and logistical support strategies. Mr. Wu is also a prominent author, having published a book on marketing for the industry.
Mr. Wu's appointment coincides with the opening of ForeverGreen's new office in Hong Kong. The office provides members a space to host meetings and events and acts as a central location for ForeverGreen's business in the city, including product distribution and member services.
The Asia Pacific region made up 43 percent of global direct selling retail sales in 2013. ForeverGreen expects its sales in the region, especially Hong Kong, to increase exponentially as a result of the new office and Mr. Wu's expertise.
ForeverGreen Worldwide Corporation develops, manufactures and distributes an expansive line of all natural whole foods and products to North America, Australia, Europe, Asia and South America, including their new global offerings, PowerStrips, SolarStrips and BeautyStrips. They also offer Azul and FrequenSea(TM), whole-food beverages with industry exclusive marine phytoplankton, the Versativa line of hemp-based whole-food products, immune support and weight management products, Pulse-8 powdered L-arginine formula, TRUessence(TM) Essential Oils and Apothecary, 24Karat Chocolate(R) and an entire catalog of meals, snacks, household cleaners and personal care products.
Forward-Looking Statement
This press release contains certain forward-looking statements. Investors are cautioned that certain statements in this release are "forward-looking statements" and involve both known and unknown risks, uncertainties and other factors. Such uncertainties include among others, certain risks associated with the operation of the company described above. The company's actual results could differ materially from expected results.