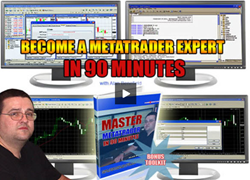 In just over 90 minutes, Alan will demonstrate everything you need to know to become an expert user of MetaTrader 4
New York, NY (PRWEB) February 28, 2015
Several Forex traders tend to get overwhelmed with the features and complexity of MetaTrader 4. Firstly, finding information about it can be tricky and not many have the patience to go through the instruction manual either. Traders can't help but wish that there was an easy to follow guide that they could use to make things simpler for themselves.
That's what Mastering MetaTrader In 90 min course is all about, according to its claims. It is a home study course that has been put together with the needs of all types of users at different levels in mind. It comes from Alan Benefield, who is not only a trader and a software expert but someone who has used MetaTrader for a long time now. He offers this course that promises to help users master the powerful trading platform in just about 90 minutes.
MetaTrader was itself created from the ground up to keep up with the demands of the traders today. From getting trade analysis with an edge to developing one's own trading strategies, this platform has a lot of offer for users. Now they don't have to put off making the most out of it because they find it overwhelming because there is a home study course that can guide them along the way.
Some of the things users can learn from the Mastering MetaTrader In 90 min include information from step 1 of downloading the platform to finding a demo account that won't expire. Users will also be able to quickly setup, and arrange charts, which not only saves them time but also gives them the cutting edge advantage. It also offers them an overview of tools, menus and main buttons to get started.
Users can find information about creating custom templates and profiles, to setting up price alerts in MetaTrader 4. Whether one wants to attach and use scripts with the charts or add an expert advisor from the Internet and move one's settings to a new MetaTrader 4 account; they will find the information they need it in this easy to follow program.
For a complete review of ForexMentor and Peter Bain please visit the link here.
About Forex Mentor
Founded by veteran trader Peter Bain in 2003, to tackle the menace of misinformation spread to new Forex traders, Forex Mentor community has grown tremendously and offers world class education to aspiring traders.
Media Contact
URL: http://www.forexmentor.com
Phone: 800-516-0234