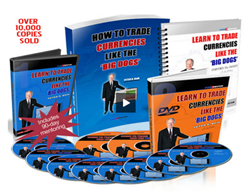 I spent approx $1,500 on training and I have already learned more in your mentoring area then I did from any of those others' materials.
NY, New York (PRWEB) August 31, 2014
Forex Mentor review unveils and examines Trade Currencies Like The 'Big Dogs' program for the benefit of users interested in Peter Bain's new Forex program.
According to statistics, a large number of new traders tend to rely on black box systems and technical indicators. One can't blame them because the notion is that this is the only way to start with forex trading. But the problem with this system is that not only does one have to deal with complicated charts, there are risks of being tripped over and one just can't be far-sighted enough.
That's where a home study course like Trade Forex Like The 'Big Dogs' comes into the picture. It has been created by Mr. Peter Bain, who is the founder of Forex Mentor. It follows the simple principal that if one wants to trade successfully in Forex then one should be able to change with it. That's not possible with just technical indicators and one needs a lot more than that.
Moreover users also have to realize that the big traders in the market don't use black box systems and technical indicators because they just don't want to waste their time on them. These methods can also hinder their ability to adapt to the dynamics of the market. Now new users can get invaluable insight on how these big fish in the market function, with this program that has been specially created for them.
Trade Forex Like The 'Big Dogs' is a program that has come into being thanks to the personal experiences of the author while working with top traders. It tells users how to interpret and understand market price action. One also understands how to have frames of reference on price chart using pivot levels. Importantly, the information is available in a form that is easy to understand for all users, including beginners.
The program also offers users the invaluable skill of knowing if the price is trading in Buy zone or Sell zone. From indentifying real price reversal patterns to conducting multiple time-frame, top-down analysis instantly, knowing about keys times of the day to trade and figuring out currencies that are ready to move; there's a lot of crucial information in the program for users.
About Forex Mentor
Founded by veteran trader Peter Bain in 2003, to tackle the menace of misinformation spread to new forex traders, Forex Mentor community has grown tremendously and offers world class education to aspiring traders.
For more information on Forex Mentor and Peter Bain, please visit http://covertforexops.com
http://CovertForexOps.com