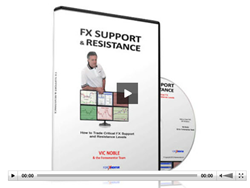 Who benefits: Traders frustrated by other introductory courses that failed to address all-important aspects of personal development such as trade readiness and what you need to succeed in this exciting market.
New York, NY (PRWEB) February 28, 2015
Many people have found Forex trading as another avenue for earning an extra income for themselves. Those who want to earn more in trading should invest more time and effort in learning key Forex trading strategies in order to avoid the high risk involved while trading volatile currencies. The good news is with the launch of the "How to trade Forex Using Support & Resistance Levels" home study video course, this goal just became a lot closer to reality for many aspiring traders.
The video course reveals real trading examples that teach a person how to mitigate risk in order to earn more profits from the foreign currency markets. The course is a result of extensive research and investigation coupled with the experience of Vic Noble who is a personal coach at ForexMentor.com.
Vic Noble has put together topics like learning about the different levels that exist in the Forex trading market and how knowledge through the course can help identify 'key reaction levels' that can help nullify risk factors to a large extent. Vic's course also explores the concept of market flow and integrating this into trading techniques.
For those who want a more detailed analysis of the market conditions and how using certain kinds of techniques can help improve trading prospective, this is the one of the best video courses online that is out there.
For a ForexMentor.com Peter Bain review, click here.
About the "How To Trade Forex Using Support & Resistance Levels":
This is a home study video course that explains exclusive trading concepts that are not easily found in other courses or teaching material. The course is about discovering techniques that are otherwise absent from similar content. Vic Noble has coached thousands of aspiring Forex traders and helped them extract more for the effort they put. It is a comprehensive video course that includes a reference guide, videos, and a system that traders can follow to learn online Forex trading.
To know more about this course, please visit the following link at http://www.forexmentor.com/supportresistance/
Media Contact:
ForexMentor.com
800-516-0234