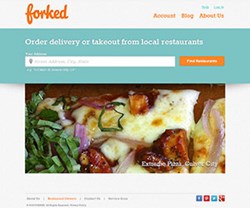 Nowadays people order food online a lot, so this partnership helps us serve our customers better." - Laura Adams, The Eclectic
Los Angeles, CA (PRWEB) October 03, 2013
The old way to order food delivery or takeout consisted of keeping a stack of paper menus from local restaurants that deliver, somewhere in the house. When one was hit by a craving for Thai food, pizza or empanadas one would rummage through those menus, place many phone calls and order by phone.
The Old Gives Way to the New
In Los Angeles, the old way to order food delivery has given way to the new, thanks to Forked.com, a new online food-ordering site. Forked.com is the best source for Angelinos to find neighborhood restaurants that deliver and order food online for delivery or takeout. No paper menus and no lost-in-translation orders.
Born in late 2012 as a brainchild of L.A.-based restaurateur James Lee, Forked.com is a great solution when there's no time to leave the office for lunch, or when there's not enough hours in the day to cook dinner for the family.
Simplicity at its Core
Forked.com is extremely simple to use for anyone looking for delivery options, and a refreshing alternative to old fashioned food ordering.
By simply entering a delivery address on the home page at Forked.com, users are immediately presented with a list of all restaurants that deliver to their location. No need to ask "I wonder which restaurants deliver near me?" - Users just select one of the many participating restaurants, view the menu online and select food and beverage items. Then, with one click of the button, food is on its way.
Transactions are fully secure and there's no need to give one's credit card information to a stranger over the phone. Users can also choose to pay cash upon delivery.
The Soft/Stealth Launch
Forked.com went quietly live with a Beta version in September 2012, and began gathering momentum over the first months of this year. These crucial first months allowed the development team to work out the bugs, implement customer feedback and expand the Forked.com restaurant network.
"We are focusing our energy and marketing dollars in the city we love and know best. Growing our restaurant network and offering the very best of LA to our customers is our goal," explains Jennifer Kim, VP of Business Development at Forked.com. "Through the ease and functionality of the site, we are helping our users discover the vast and colorful selection of restaurants that makes Los Angeles so special."
Over 1,200 restaurants
An online food-ordering site depends on a robust network of restaurants that deliver a wide selection of cuisines - from Vietnamese to Mexican, Kosher to Gluten-Free. Today, Forked.com boasts over twelve-hundred restaurants in the Greater Los Angeles area, offering 63 different cuisines. From Pizza to Indian food, Russian delicacies to Thai meals, there's something for everyone.
Unique to Forked.com is its relationship with highly-popular restaurant chains such as California Pizza Kitchen. Angelinos unable to make it to the restaurant take great pleasure in being able to enjoy their favorite meal in the comfort of their homes.
Think Global, Buy Local
Forked.com is an L.A.-based business with a single-minded focus on Los Angeles food delivery and takeout. This brings a practical advantage in establishing relationships with both restaurants and customers. This in turn empowers Forked.com to bring a wide array of cuisines to every L.A. neighborhood. Additionally, customers are proud to support a local business that generates jobs in L.A.
In turn, Forked.com rewards customers with exclusive coupons available only to those with Forked.com accounts (creating a Forked.com account takes less time than eating a French fry).
Making Restaurants Thrive
By presenting neighborhood restaurants to a whole new audience, Forked.com actively brings new business to eateries. The increased revenue is especially welcomed by Mom-and-Pop operations and location-impaired hole-in-the-wall gems.
The advantages of such a partnership are clear to award-winning restaurateurs Don and Laura Adams, owners of The Eclectic – a chic urban eatery in the heart of the NoHo Art District: "Working with Forked has helped us reach new customers beyond our usual reach," points out Laura. "Also, nowadays people order food online a lot, so this partnership helps us serve our customers better."
Ready for Primetime
What a difference a year makes. With a redesigned homepage, a friendly customer-service team and a savory bunch of new features, Forked.com is ready for mass consumption. And more and more Angelinos are finding the site's "click-and-eat" simplicity scrumptious - so much so they keep coming back for seconds.
About Forked.com
Founded in September 2012, Forked.com aims to become the premier portal for food delivery in Los Angeles. Through solid relationships with prestigious restaurant chains and small local eateries alike, Forked.com has grown its network to over 1,200 restaurants and continues to grow. The site focuses on simplicity, making online food ordering quick and easy. Forked.com account holders receive frequent discounts and special offers via email. Forked.com is located in Culver City, CA. and services the Greater Los Angeles area.