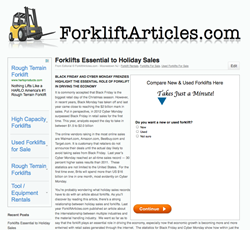 the product had between 15 and 21 encounters with a forklift before its arrival at the purchaser's door
Moorestown, NJ (PRWEB) November 28, 2013
In an article inspired by the sales projections that this year's Black Friday and Cyber Monday may surpass last year's record sales, the writers at ForkliftArticles.com drove home the point that without the dependence on forklifts to store and move products, the unprecedented sales record by Amazon.com last year on Cyber Monday of 306 items purchased per second could never have been achieved. As the popular Forklift-focused website often proclaims, the forklift industry is not only a predictor of an economic revolution, it is a facilitator of it.
In a recent article on the site, the team suggested playing the "forklift game." Using the example of a recent internet purchase of a child's holiday gift from Amazon.com, the staff determined that from the initial retrieval of the raw material from the natural environment, through the refinement, processing, manufacture, packaging, warehousing and shipping, the product had between 15 and 21 encounters with a forklift before its arrival at the purchaser's door. This startling fact partly explains, the article reports, the essential role the forklift plays in the current world economy.
The article cites several economic analysts who have pretty much isolated the forklift as the precipitator of some of the greatest technological advances in the industrial world, especially the modern phenomenon of global manufacturing and distribution of common household products being marketed via the internet.
Over the past year, ForkliftArticles.com has gained an excellent reputation as a cyber-billboard for the forklift industry, sharing articles about the origins, history and development of the major forklift manufacturers, forklift dealers, and informing consumers about trends and innovations that impact the industry. One article called forklifts the "unsung heroes of modern industry and the catalysts in the transformation of world manufacturing practices. " Another concluded that the forklift is probably the most important piece of equipment in a successful company's arsenal.
If the projections for 2013 materialize as expected, more economists will focus on the material handling industry in order to determine how much more efficiency might be injected into future product development in order to maintain the momentum indicated by the statistics for Black Friday and Cyber Monday. The complete article is available at http://www.ForkliftArticles.com.