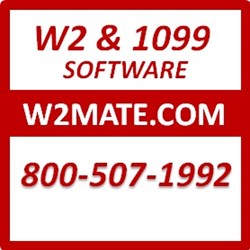 Our W2 Mate software has some of the best W2 1099 software features in the industry. Regardless of your evaluation criteria you will quickly find out that our software ranks up there. See for yourself by downloading a free demo from www.W2Mate.com.
Chicago, IL (PRWEB) January 04, 2014
Real Business Solutions (http://www.W2Mate.com / 1-800-507-1992) is proud to present the 2013 1099-R processing module available inside its W2 Mate 2013 software. The in-house solution gives banks, financial institutions, public retirement systems and pension management companies all the capabilities they need to import, populate, print, e-mail, e-file and review 2013 / 2014 Forms 1099 Retirement. W2 Mate also supports tax forms 1099-MISC, 1099-INT, 1099- DIV, 1099-K, 1099-R, 1099-S, 1098-T, 1098, 1099-A, 1099-B, 1099-PATR, 1099-OID and W-2.
W2 Mate saves business filers time and money and helps them avoid harsh IRS penalties. W2 Mate is trusted by thousands of enterprises nationwide, including accounting firms, credit unions, farms, hotels and many other great American businesses. W2 Mate is distributed electronically for instant download over the internet. The software can also be shipped on a CD. A trial version is available at http://www.W2Mate.com/ for evaluation.
Retirement systems are required by federal law to provide a Form 1099-R to anyone who received money from the fund. The same information is also provided to the Internal Revenue Service (IRS) and state tax departments. The 2013 Form 1099-Rs must be postmarked by Friday Jan 31, 2014.
By integrating with the best-in-class enterprise accounting, tax and payroll applications, W2 Mate provides W2 1099 filers with the ultimate solution for information return and tax form processing for the 2013 / 2014 season. W2 Mate can import data from Microsoft Great Plains, Microsoft Dynamics GP /SL, Sage MAS 90, Sage MAS 200, SAP, Intuit QuickBooks, Sage Peachtree, Sage 50 and many more.
Every year, business filers and tax professional are faced with the task of processing year-end information returns. 1099 and W-2 tax forms must be printed and delivered no later than end of January, so that recipients can receive these tax statements in time for their own income tax reporting with the IRS. W2 Mate software makes the process of 2013 / 2014 W2 1099 filing smooth, easy and above all affordable.
1099 tax documents may be sent to the government electronically via the IRS FIRE system, a component of the Internal Revenue Service online services for business filers. The 2013 1099 electronic filing feature inside W2 Mate software prepares an unlimited number of E-File transmittals which comply with IRS publication 1220. E-filing 1099s using W2 Mate 2013 is easy and affordable.
W2 Mate Software Highlights: Prepares unlimited number of 2013 W2 and 1099 forms for multiple employers and payers; Fills in pre-printed 1099 Copy-A forms and prints other 1099 copies such as recipient and payer copies on plain paper using black ink; E-files 2013 W2s and 1099s with the SSA and IRS (no limitations on the number of tax forms or submissions); Creates 2013 employee W2's as PDF and recipient (vendor) 1099's as PDF; SSA approved to print W2 & W3 forms on regular white paper, which eliminates the need for expensive forms ; Data import from MS Dynamics, Great Plains, Intuit QuickBooks, Sage Peachtree, Sage DacEasy, Excel and CSV Data import from QuickBooks removes the "800 Form" / "$10 Million payroll" maximum limitation; Efficient and intuitive manual W2 / 1099 data entry; Supports 1099MISC, 1099K, 1099INT, 1099DIV, 1099R, W2, W3, 1096, 1099S, 1098T, 1098, 1099A, 1099B, 1099C, 1099PATR, 1099OID; Automatically calculates Social Security and Medicare taxes For paper filers 1096 and W3 are automatically generated; Supports Windows 8, Windows 7, Windows Vista, Windows XP, Windows Server 2003, Windows 2000 or Windows 98; Roll-over of payer and recipient information from year to year; Password protection and data validation; Generates printing labels, form totals and recipient lists; Prompt, courteous and reliable US-based support through phone, chat or e-mail; Network ready with affordable pricing for multiple seats; Exports W2s and 1099s to excel; Includes 1099 and 1098 filing instructions; TIN matching and verification including reports for missing TINs and TIN matching errors; Supports truncating social security numbers on returns; Completes 1099 forms electronically; Includes deadlines for 1099 mailing (1099 filing due dates); Includes 2013 form 1099 instructions.
A free 2013 1099-R printing software solution evaluation can be downloaded from http://www.W2Mate.com. Customers can purchase the software and receive it instantly.