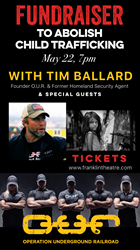 "According to a TBI report, of the runaways reported each year in Tennessee, about 1,000 are trafficked into some form of slavery and it doesn't discriminate. My organization is anxious to help Tennessee stop modern day Slavery in their jurisdiction." Tim Ballard/OUR
NASHVILLE, Tenn. (PRWEB) May 16, 2019
Prominent pianist Paul Cardall will host a "Red Carpet Evening" with Operation Underground Railroad's (O.U.R.) Tim Ballard at The Franklin Theatre on May 22. Ballard founded O.U.R. in 2013 as the leading organization which undertakes actual extractions of children caught in the web of human trafficking. Ballard, a former Department of Homeland Security Special Agent, leads a team of former CIA, Navy Seal and Special Ops operatives, who work with law enforcement around the world in rescuing young people being trafficked for sex work, pornography and illegal organ harvesting. Cardall is on the Board of Governors for O.U.R.
This star-studded evening will include some remarks from Ballard and Cardall, a live performance from Tyler Reese (daughter of Travis Tritt) and a screening of the powerful documentary "Operation Toussaint" which follows Ballard and his team through the planning and execution of a raid on human traffickers.
"As a governing board member of Operation Underground Railroad and as a member of the Nashville music community, I'm eager to introduce Tim Ballard to Tennessee," comments Cardall. "I want to introduce as many people as I can to the work we're doing and to inspire a movement that will liberate the 40 million people in slavery today. My family and friends in Nashville are some of the most giving people in the country. They don't just give - they take action, and that is why I believe it's important to inspire my neighbors to become involved. Tim is a visionary, and under his leadership we can make huge strides."
Ballard adds, "According to a TBI report, of the runaways reported each year in Tennessee, about 1,000 are trafficked into some form of slavery and it doesn't discriminate. As a former DHS agent, I founded Operation Underground Railroad, which exists to rescue children in the sex-trade and arrest and prosecute traffickers. My organization is anxious to help Tennessee stop modern day Slavery in their jurisdiction."
There will be a number of giveaways and photo opportunities with Ballard and Cardall prior to the screening. Tickets are available at http://www.franklintheatre.com. Photos and arrivals will begin at 6:30 pm. The event begins at 7:00 pm.
Also on hand for the event will be country singer Craig Morgan as well as other prominent and influential Tenneseeans and celebrity attendees.