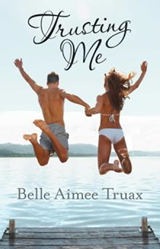 SAN BENITO, Texas (PRWEB) June 04, 2019
In Belle Aimee Truax's tale of romance and second chances, "Trusting Me" (published by Archway Publishing), two high school sweethearts reunite and must decide if their love is strong enough to help them reconcile their pasts. The book is part of a planned series.
After going their separate ways Henry Lov-Stuart and Mandi Summers each pursue their dreams. Mandi meets her husband abroad, gets her masters in something she loves, and has a practically perfect life, until it changes. Henry moves away, goes to school, gets his doctorate and opens a clinic in his hometown with his friends from college. He checked off everything he had on his list, except for love.
When Mandi returns home she is a shell of who she once was. Unexpectedly, Henry and Mandi are thrown back together. Because of their history as high school sweethearts, they decide to take the leap and give love another try.
"Rape culture, sexual assault and sexual abuse are a hot topic to this day," Truax says. "Not all stories have a happy ending like this one, but it brings to light the things that happen behind closed doors. Everything may be shiny and nice on the outside but the inside could be wrecked. Don't judge a book by its cover."
"Trusting Me" is available for purchase at: https://www.amazon.com/Trusting-Me-Belle-Aimee-Truax/dp/1480873802.
"Trusting Me"
By Belle Aimee Truax
Hardcover | 6 x 9 in | 208 pages | ISBN 9781480873810
Softcover | 6 x 9 in | 208 pages | ISBN 9781480873803
E-Book | 208 pages | ISBN 9781480873797
Available at Amazon and Barnes & Noble
About the Author
Belle Aimee Truax grew up on a farm in a small town with her large family, as the youngest of 6. Belle spent most of her childhood with her nose stuck in a book. Her love of reading and writing started when she was 4 and she wrote her first book, "The Little Ladybug." When she is not writing, Truax loves to spend time with her family, bake, dance and read anything she can get her hands on while her beloved cats and dogs fight for the chance to sit on her lap. Truax resides in South Texas with her family. "Trusting Me" is her debut novel.