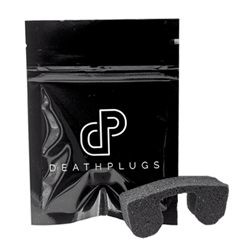 What the F**K is a DeathPlug?
DENVER (PRWEB) August 01, 2019
PROTECT YOURSELF FROM THE FOULEST ODORS KNOWN TO MAN
DeathPlugs, a breathable, charcoal-infused nasal filter designed and developed by a former local law enforcement officer, to aid officers in smelly situations.
DeathPlugs can be used by inserting a ½ inch piece of soft foam designed to comfortably fit into nostrils of all shapes and sizes. Its proprietary foam is infused with activated charcoal designed to mask the foulest of odors ranging from dirty diapers to decomposing bodies. DeathPlugs were initially developed with law enforcement in mind, but the product can be used for a multitude of professions and scenarios that involve unpleasant smells.
DeathPlugs can be purchased in bulk quantities of 25 or 50 wrapped packages, which include 3 plugs per pack. DeathPlug packages are travel-sized, meaning they can easily be carried on your person. Each DeathPlug is only meant for one-time use and must be disposed of after each use.
Our goal is to put a DeathPlug in the nose of every first responder in the US...there's only about 800,000 of them! We'd love your help by contributing to our crowdfunding campaign and sharing us on your favorite social media site.
DeathPlugs are available for purchase online at http://www.deathplugs.com and GadgetFlow. A current promotion is taking place to launch DeathPlugs where buyers can purchase DeathPlugs for their personal use or to be donated to a local law enforcement office first responder department.
###