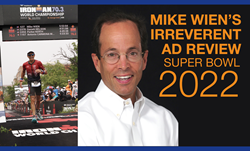 "There is a balancing act between the artistic vision and ensuring the viewer makes some connection with the brand being advertised. With many, the artistic vision won over what I predict will be the brand's return on the investment."
BOULDER, Colo. (PRWEB) February 11, 2022
For the 23th year, Mike Wien taps his marketing moxie to release a Monday morning review of the good, bad, and ugly of the commercials broadcast during the 2022 Super Bowl. While the viewers might remember the commercial, will they correctly remember who paid $6.5 million or more, an all-time high for 30 seconds, to get their message out to the masses?
Wien is uniquely qualified to review the Super Bowl advertising. As a former corporate marketing leader, he held senior marketing and sales positions with Frito-Lay, Pepsi, Omni Hotels, Citibank, and Deloitte. While at Frito-Lay, Wien was responsible for launching one of the most successful food brands: Tostitos®. A few years ago, Wien retired as an adjunct professor of marketing and the franchising academic advisor for the Cecil B. Day School of Hospitality within the J. Mack Robinson College of Business at Georgia State University.
He reviews the commercials through the lens of which brand is maximizing the advantage of their specific edge. Wien says, "To have an edge, you need to develop a competitive advantage — a point of differentiation. Success hinges on setting yourself apart from the crowd in a way that is relevant and compelling."
After viewing early releases of this year's Super Bowl commercials, Wien says, "There is a balancing act between the artistic vision and ensuring the viewer makes some connection with the brand being advertised. With the spots I've reviewed so far, the artistic vision won over what I predict will be the brand's return on the investment."
Four years ago, Wien semi-retired and moved to Boulder, Colorado to spend more time skiing and training for Ironman Triathlon and marathon races. His hard work has paid off in the last six months as he won his age group in the 2021 Ironman 70.3 World Championship, the 2021 Boston Marathon, the 2021 New York Marathon, and the 2022 Disney Marathon. He says, "I was such a late bloomer that I feel like I am in the prime of my racing career and 2021 was my best year to date."
Triathlete.com featured Wien and his age category wins. Their article began with, "…who can name the one athlete who not only won the Ironman 70.3 World Championship, but also both the Boston Marathon and New York Marathon just four weeks apart? The answer: 70-year-old Mike Wien. Wien won an age-group world title in the 70.3 at the end of September, then won his age-group title at Boston on Oct. 11 and followed that up with another age-group win in New York on Nov. 7."
So far, his competitive athletic career is comprised of more than 30 Ironman and Ironman 70.3 triathlons (including 12 World Championships), along with 60 marathons including Boston (15 times) and New York (15 times). Wien is a member of the Octagon Elite Racing team.
Wien has an MBA in marketing from the Kellogg School at Northwestern University and a BS in business from Colorado State University. He is a member of the USA Triathlon Investment and Finance Committee, chair of the Global Triathlon Safety Task Force, and a retired board member of USA Triathlon, the governing body for triathlons within the United States Olympic and Paralympic Committee.
In 2014, Wien published The Specific Edge: How Sustained Effort Wins in Life and Business that includes stories from the business and triathlon worlds about the role concentration, discipline, and endurance play in success.
When he is not training, Wien works with select clients on marketing strategy and provides keynote speeches to companies on gaining a competitive advantage with their "Specific Edge."
Wien's 2022 Annual Irreverent Super Bowl Ad Review will be posted by 1:00 am EST Monday, February 14. https://specificedge.com/2022-super-bowl-ad-review
For more information visit http://www.specificedge.com
# # #
CONTACT: Mike Wien, mike(at)specificedge(dot)com, 404-232-0058.
Wien is available for interviews.