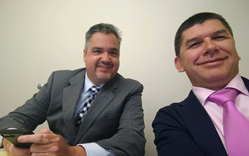 "We spent months with the DA's Office trying to find common ground. A lot of the allegations against Mr. Silva simply weren't backed up by evidence. Mr. Silva should be eligible for the work program."
STOCKTON, Calif. (PRWEB) November 21, 2019
Five months after pleading no contest to a conflict of interest charge (Case # STK-CR-FE-2017-2704), former Stockton mayor Anthony Silva was formally sentenced in San Joaquin County Superior Court to 90 days in jail, three years' probation, and a payment of more than $19,000 in restitution; however, Judge Charlotte Orcutt agreed to allow Silva to exchange jail time for 45 days served in the San Joaquin County Sheriff Office's alternative work program. Ref: https://www.recordnet.com/news/20191021/former-mayor-anthony-silva-sentenced-charges-dismissed-against-sharon-simas
The sentencing brings an end to a three-year financial malfeasance white-collar defense case against the former mayor. In May, Silva accepted a plea deal wherein several charges against him were dropped, including grand theft, embezzlement, and money laundering in connection with the Kids Club of Stockton. At that time Silva pled no contest to one conflict of interest charge. This charge relates to the former mayor's directing of $5,000 of public money from a mayoral discretionary fund to the Kids Club of Stockton prior to leaving office in 2013.
Stockton Criminal Defense Attorney Allen Sawyer, who helped negotiate Silva's plea deal, says Silva is relieved to see the case resolved.
"We spent months with the DA's Office trying to find common ground," said Sawyer. "We're thankful to the DA for their willingness to take a second look at the case. A lot of the allegations against Mr. Silva simply weren't backed up by evidence. We're also very thankful to the judge for agreeing Mr. Silva should be eligible for the work program."
At the time of his plea agreement, says Sawyer, Silva anticipated possibly serving a maximum sentence of six months in jail. Silva's time in the alternative work program will begin in January and could include a range of tasks including laundry, gardening, and recycling and trash pick-up. In the meantime, says Sawyer, Silva has started a small business and is looking ahead to a new chapter in his life.
"His life has been put on hold," said Sawyer. "He apologized for his mistake, and the rest of the allegations against him have been dropped. Now Mr. Silva can begin rebuilding his life, can resume making a living, and can put all of this behind him."
All charges against co-defendant Sharon Simas were dismissed. Simas, Silva's former executive assistant who was also connected with the Kids Club of Stockton, had been accused of embezzlement, conflict of interest, and other charges. Ref: http://www.prweb.com/releases/the_rosenfeld_law_firm_earns_case_dismissal_for_former_mayor_of_stocktons_executive_assistant_sharon_simas/prweb16732404.htm
Press release writing by WebSiteText.com | Proofreading Services by The Proofreaders.