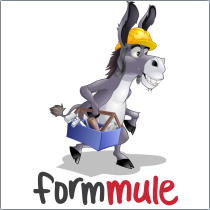 For a free form-creation service, businesses can't do better than FormMule for creating and managing forms, as well as tracking results.
London, UK & Barcelona, Spain (PRWEB) November 21, 2013
GetApp, an independent marketplace that helps businesses discover, compare, review and purchase business applications, today announced it has awarded maximum rating to FormMule, an online form builder that gives businesses everything they need to collect data online, build any type of form or survey and even accept payments.
"FormMule provides businesses the ability to easily create professional-looking forms. For a free form-creation service, businesses can't do better than FormMule for creating and managing forms, as well as tracking results," said Stephanie Faris, GetApp reviewer.
FormMule achieved the following ratings:
Overall: 8/10
Ease of Use: 4/5
Features: 4/5
Value: 5/5
FormMule is easy to use by anyone to create online forms, in just a few minutes. Users of FormMule can add logos, change colors, and choose fonts to match their own personal preferences. As they create additional forms, FormMule's dashboard allows them to organize and sort the forms to more easily track new orders. Businesses can also assign multiple team members to update and design forms, assigning specific forms to individual team members and even changing the administrator of the entire team.
According to GetApp, the main benefits of FormMule are its easy integration with web apps so it can be tied into a business's existing infrastructure. This allows businesses to use FormMule for everything from employee timesheets to building an e-mail subscription list. Additionally, FormMule can be easily connected to a business's FreshBooks and Twitter accounts, as well as a wide variety of e-mail marketing services such as MailChimp and iContact.
FormMule CEO Terry Novis said, "We are honored to receive a high rating from GetApp. We are on a mission to take the donkey work out of online form building and are proud to offer such as an efficient form builder for free to small businesses."
To read the full review on GetApp visit:
http://www.getapp.com/blog/formmule-review/
To learn more about FormMule, please visit:
http://www.getapp.com/formmule-application
About FormMule
FormMule is a Terio company and are, an enthusiastic team of smart people who strive to make their product so easy to use that even a complete novice, can create complex form's with ease. Based in London (United Kingdom), FormMule was first launched in December 2008 and can now count customers in over 100 countries around the world.
About GetApp
GetApp is the largest independent online marketplace that helps small to mid-sized businesses and startups discover, evaluate and manage the perfect business apps for their needs. Its mission is to support millions of users in their "best app" research with comprehensive directories, interactive search tools, side-by-side comparison tables, user reviews and app evaluation resources.
In addition, GetApp serves as a global online marketing channel for thousands of business application developers. GetApp operates primarily in North America and the U.K. It is privately owned and backed by Nauta Capital.