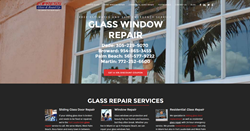 Customer reviews are incredibly important, and it can be frustrating when they are difficult to find.
Fort Lauderdale, FL (PRWEB) December 04, 2015
Express Glass and Board Up, Fort Lauderdale's highly rated sliding glass door and window repair service at http://www.expressglassfl.com/, is announcing an informational alert concerning the company's Google+ review page. The Express Glass customer ratings page is not easily visible in the new Google+ format.
"We are all about making things better and easier for our customers," commented Yaniet Santos, general manager of Express Glass. "So, we understand that Google is working to upgrade their customer experience. Sadly, at the moment people are not able to easily find our five-star reviews on the new Google+ page. That is an inconvenience we have decided to fix right away."
To view the Express Glass Google+ page go to: https://plus.google.com/117547181416928531272. Information about sliding glass door replacement and repair and 24/7 emergency glass repair is available. Click on the "about" tab and scroll down to see the five-star customer reviews for Express Glass.
If someone is using the new Google+ format, however, they will need to go to https://maps.google.com/ and search for Express Glass. In the new format, they will see the reviews on the left column in Google only. Reviews are no longer visible in the actual profile in the new format.
Fort Lauderdale Residents Search Five-Star Ratings for the Best in Sliding Glass Door Replacement
When glass shatters in a Florida home or business, residents may search Google+ for top reviews to find the best in sliding glass door replacement. Broken windows or patio doors require immediate repair. When there is no easy access to top customer reviews, confusion over which is the best service may arise. Fort Lauderdale residents need quick access to the best in 24/7 emergency sliding glass door replacement service.
The company recommends customers search Express Glass on Google Maps and click on the "reviews" link for top customer ratings. Finding a quick and professional solution to shattered patio glass is important to Fort Lauderdale residents. Reading five-star reviews from satisfied customers helps Florida locals choose the best in sliding glass door replacement.
About Express Glass Repair and Board Up
Express Glass and Board Up Service Inc. is a family owned and operated glass repair business with more than 20 years of experience. professional technicians and the large variety of inventory make Express Glass the top glass repair service. Customers are looking for Ft. Lauderdale Sliding glass door repair, Miami glass repair or West Palm Beach glass repair, please reach out to the company for a free estimate. If customers need a 24/7 Sliding Glass Door repair or replacement service in Ft. Lauderdale or Boca Raton or Miramar, technicians are standing by. The company specializes in sliding glass door repair and window glass repair for commercial or residential customers. Technicians will handle any glass replacement situation efficiently. Home or business glass repair is the company's main priority.
Express Glass Repair and Board Up
http://www.expressglassfl.com/