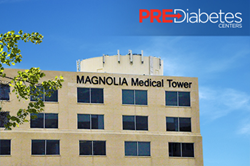 It's important to take care of a disease before it becomes out of control.
Fort Worth, Texas (PRWEB) September 24, 2014
PreDiabetes Centers, a top provider of personalized prediabetes treatment, is expanding its clinic days in Fort Worth to meet the growing demands of its thriving client base.
The Center will now offer appointments on a second weekday, on Wednesdays, in addition to Thursdays. The PreDiabetes Center of Fort Worth continues to create individualized, whole-body treatment plans to reverse the onset of diabetes using cutting-edge biomarker testing and evidence-based medicine.
Over the past year, the PreDiabetes Center of Fort Worth saw demand for integrated prediabetes treatment increase across a wide spectrum of patients, encompassing men and women ranging in age from their 20s to 50s. Operating an extra clinic day allows the health team to better meet the needs of clients visiting the Center for blood draws and one-on-one consultations with the physician and health coach.
The health team at the PreDiabetes Center of Fort Worth is led by Kelly Boulden, MD, a distinguished physician who specializes in diabetes prevention and chronic disorders.
Dr. Boulder and her health team treat clients in a 12-month program that combines traditional medical treatment with health coaching, state-of-the-art body monitoring, sleep hygiene support, hormone optimization, nutritional supplements and an advanced nutrition plan, which includes more than 300 recipes designed by the PreDiabetes Concierge Chef.
Dr. Boulden says that diabetes is a common disease among Americans, but preventive medicine administered when a person is prediabetic coupled with proper treatment for underlying conditions can stop the development of diabetes.
"It's important to take care of a disease before it becomes out of control," said Dr. Boulden.
The PreDiabetes Center of Fort Worth is located at 1307 8th Avenue in Suite 502 at Magnolia Medical Tower.
All treatment at the Center is overseen and approved by the PreDiabetes Centers Medical Advisory Board, a panel comprised of distinguished physicians from various medical specialties.
People who feel they may be at risk for diabetes can take an online Diabetes Risk Survey, or call 1-855-399-7733 to schedule a complimentary blood test.