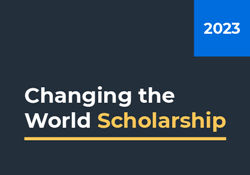 FORT LAUDERDALE, Fla. (PRWEB) March 07, 2023
The Law Offices of John D. Ameen is proud to announce the launch of its scholarship program. The Changing the World Scholarship will provide $1,000 to a deserving STEM student each semester. The first winner will be announced for the Fall 2023 semester. This scholarship program is The Law Offices of John. D. Ameen's latest effort to give back to the community and build a better future for all.
The Changing the World Scholarship is designed to support students who are innovating in the fields of science, technology, engineering, and mathematics. The firm regularly represents people who have been seriously injured in accidents. Its attorneys understand the importance of scientific evidence in these cases, since they often rely on an understanding of physics to recreate accidents. The firm's team recognizes the important contributions these fields have made to personal injury law. For this reason, firm leader Attorney Ameen has chosen to support students who are pursuing careers in these areas.
To be eligible for the Changing the World Scholarship, students must currently be majoring in a STEM field as an undergraduate. Interested students may apply by submitting a written essay responding to the prompt, "As a STEM major, how do you think your career will help make the world a better place?"
Students may apply by visiting: https://www.protectingyou.com/scholarship
About The Law Offices of John D. Ameen
The Law Offices of John D. Ameen is a personal injury law firm with locations in Fort Lauderdale, West Palm Beach, Boca Raton, Hollywood, and Coral Springs. The firm takes on challenging personal injury cases, including motor vehicle accidents, boating accidents, and premises liability cases. The attorneys also represent survivors of sex trafficking who are seeking compensation. Additionally, The Law Offices of John D. Ameen has a niche practice handling property damage insurance disputes.
To learn more about The Law Offices of John D. Ameen or to contact the attorneys, please visit: https://www.protectingyou.com/