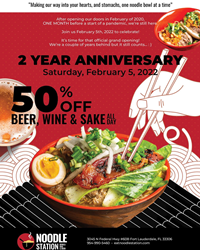 "We are so grateful to the community that helped our restaurant survive during these past two years," said Mitchel Zelman, a partner of Noodle Station. "Now is the perfect time to celebrate our grand opening with the customers who helped us reach our second anniversary."
FORT LAUDERDALE, Fla. (PRWEB) January 20, 2022
Noodle Station, a Fort Lauderdale restaurant serving bowls, bao, and beer, will celebrate its 2 year anniversary and belated grand opening on Saturday, February 5th, 2022.
Since Noodle Station opened shortly before the pandemic hit, the restaurant did not have an opportunity to do its planned March 2020 grand opening. As a result, Noodle Station is using the occasion of its 2 year anniversary to also have an official grand opening.
"We are so grateful to the community that helped our restaurant survive during these past two years," said Mitchel Zelman, a partner of Noodle Station. "Now is the perfect time to celebrate our grand opening with the customers who helped us reach our second anniversary."
To celebrate Noodle Station's 2 year anniversary and official grand opening, the restaurant will be offering 50% off beer, wine, and sake all day on Saturday, February 5th. Guests can also expect a DJ, live band, and more throughout the day.
Mitch Zelman added, "The last two years have been like an extended soft opening, but we're excited to have our official grand opening and invite the community to celebrate with us one noodle bowl at a time."
The build-your-own-bowl concept at Noodle Station lets diners choose their noodles, broth, vegetable, and protein options. Customers who do not love noodles can also customize steamed bao - which resembles an Asian taco - with their choice of proteins and vegetables.
Customers who may be unsure about which flavor combinations work well together can choose a "signature bowl" instead of creating their own. One example is the Keto bowl, which has a vegan, gluten-free sweet potato green pepper veggie broth with hearts of palm veggie noodles, bok choy, cabbage, sauteed red onion, roasted beets, pickled daikon, and egg. Another example is The O.G. Ramen with ramen, corn, grilled bok choy, Chinese cabbage, daikon, finely chopped scallions, and pulled pork in a chicken oyster ginger broth.
For more information about the 2 year anniversary, visit Noodle Station's Facebook or Instagram.
More about Noodle Station:
Noodle Station, located at 3045 N. Federal Highway in Fort Lauderdale, opened in January 2020 and has since become a favorite for local diners and celebrity food critics. In addition to being featured on the Food Network, the restaurant has been featured on Hungry Black Man, Josiah Eats, and Chase Creative on YouTube.
For more information, please visit https://eatnoodlestation.com/ or call (954) 990-5460.