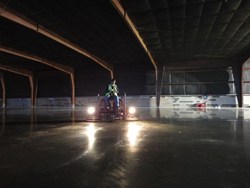 World Leader in Concrete Reinforcement Technology!
Warner Robins, GA (PRWEB) August 15, 2013
H igh-fiber column-line floor applications have over 13 years of U.S. project experience, the first of which was placed in the spring of 2000. Though the concept is quite new to many in the flooring market, many specifiers, contractors, and owners have now embraced the technique for a growing number of new applications and projects. While the column-line format is generally now considered as 'conservative', some projects have dramatically expanded the envelope.
Such is the case in this month's featured project – the Rigby's Family Entertainment Complex – where premier concrete contractor, Bryan Birdwell, placed almost 22,000 square feet of joint-free skating rink floor reinforced with FORTA-FERRO® Macro Fibers, and won a world-record Golden Trowel award in the process. Bryan Birdwell's passion for improving the art of sustainable floors and the confidence he has for FORTA products is a great example to anyone in the construction industry.
About FORTA Corporation:
With synthetic concrete reinforcement products from FORTA Corporation, you can control cracking and add long-term durability to a wide variety of concrete applications. Since FORTA's beginning in 1978, its fibers have played an important role in the design and construction of many different types of applications including: Slabs-on-Ground, Slabs-on-Metal Deck, Pervious, Decorative, Shotcrete, Precast, Bridge Decks and Pavements.
More than a product manufacturer, FORTA Corporation is a worldwide leader in synthetic fiber research and development. From a single grade of fiber, FORTA has expanded its product line to include an entire family of reinforcement fibers, each tailored to specific applications and demands of the international concrete community. Coupled with a dedicated and knowledgeable management, staff and workforce, FORTA Corporation will continue to lead the way in building a better and more durable concrete future.
For more information, visit http://www.forta-ferro.com/contact-information/contact-form/ or call 800-245-0306.