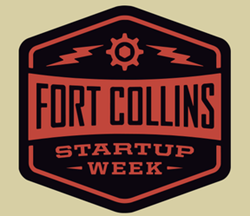 Fort Collins Start Up Week kicks off May 20 - 25th 2014. Kauffman Foundation names Fort Collins, Colorado a leading metro area with 2nd highest density of High-Tech Startups.
Fort Collins, CO (PRWEB) February 10, 2014
Launch Haus LLC, a local venture catalyst firm along with its co-organizers Steve Hamaker and Kari Henley announces the first ever Fort Collins Startup Week May 20-25th.
Register at http://www.ftcstartupweek.co.
Gerd Leonhard, the well-known futurist and five-time author, will kickoff the 5 day event that's slated to unite the entrepreneurial community across the Front Range of Colorado while bringing in global entrepreneurial rock stars to the local scene.
Learn more at http://www.ftcstartupweek.co/keynote.
The event will explore and celebrate success from local leading companies, provide inspiring speakers, uncover real innovation and share game-changing ideas happening in the City, State and Nation.
"The City of Fort Collins is pleased to participate in this event, which will help highlight many of the small businesses and entrepreneurs in our community and help them connect with resources," said SeonAh Kendall, the City's Economic Policy and Project Manager, who works with businesses on retention and expansion.
This event is not only at the right time, following Boulder Startup Week May 12-16th, its in the right place according to the 2013 study by the Kauffman Foundation which named Fort Collins number 2 of its Top 10 Metro Areas for High-Tech Startup Density.
"Fort Collins Start Up Week is slated to highlight everything entrepreneurial in Northern Colorado, from leading-edge tech to social innovation, maker labs to music, tasty hops to leaps in bioscience, and some of the coolest and quirkiest main street establishments anywhere in the country" said Chris J Snook, Organizing Chair and Co-Founder of Launch Haus, LLC. "We're blessed to have the week culminate with the unprecedented size and energy of the Blue Ocean Enterprise Challenge."
Fort Collins Startup Week tracks include: Capital Access, Design Thinking, Talent, Entrepreneurship, Social Innovation, & Public Policy. Stay tuned as the panelists and session leaders reveal their content for the program.
Interested Sponsors of the event should contact c(at)ftcstartupweek(dot)co.
About City of Fort Collins
The Economic Health of the community is one of seven key outcomes adopted by the City of Fort Collins and City Council in its Strategic Plan. The City aims to promote a healthy, sustainable economy reflecting community values by enhancing opportunities for businesses and the local workforce; fostering a diverse mix of employment and retail opportunities; focusing and investing in the Downtown area, Poudre River district, Lincoln Triangle and Midtown Corridor; and revitalizing and strengthening business centers.
About LaunchHaus LLC
Launch Haus, LLC catalyzes entrepreneurship and channels innovation through their global network of leaders and mentors. As operator of Launch Haus Manor-the Innovators BNB, and Launch Haus Labs its programmatic community offerings include the LaunchNoCo Meetups and Fort Collins Startup Week.
About Gerd Leonhard
Gerd Leonhard is a well-known Futurist and Author of 5 books, a highly influential Keynote Speaker, Think-Tank Leader & Advisor, and – since late 2011 – the Founder of GreenFuturists.com.