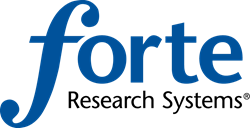 We are here to ease the burden of operations for you so you can focus on the research and the patients.
Madison, WI (PRWEB) March 23, 2017
Forte Research Systems, Inc., an industry-leading developer of specialized clinical research solutions, announced several new innovations during the keynote session at the 2017 Spring Onsemble conference at Laguna Cliffs Marriott Resort & Spa in Dana Point, California.
Shree Kalluri, Founder, CEO and Chief Customer Officer, kicked off the keynote by reminding attendees of Forte's mission to accelerate drug development by creating research centers of excellence. Kalluri addressed attendees, stating, "We are here to ease the burden of operations for you so you can focus on the research and the patients." Forte continues to innovate and create technologies that help research sites operate more efficiently and announced five new solutions for customers.
New solutions sourced by the customer community
Forte eReg
One challenge faced by many customers is the burden of protocol regulatory management, which led to the development of the Forte eRegulatory Management System (eReg). Forte eReg manages essential protocol documents in a 21 CFR Part 11-compliant system, allows for easy sponsor and monitor access and streamlines regulatory workflows throughout an organization.
Forte EDC
Forte's customers also needed a compliant, easy-to-use electronic data capture (EDC) system that would meet the needs of clinical research staff. Forte developed Forte EDC, a 21 CFR Part 11 compliant EDC that is individually validated. The hosted, turnkey system allows sites to be up and running quickly, with minimal investments in infrastructure needed.
Forte EVAL
Many large academic medical centers and cancer centers also struggle to efficiently demonstrate the impact of their research. This information, needed for grant submissions and renewals as well as internal analysis, has historically been collected through manual, resource-intensive processes. Forte took this challenge head on and developed Forte Research Evaluation System (EVAL). EVAL acts as a dynamic repository to help customers tell their story and show their research ROI by linking investigators, grants, publications and more. The system tracks key data points related to the NCI Cancer Center Support Grant (CCSG) and the Clinical and Translational Science Award (CTSA).
Nimblify Insights for EVAL
As technology solutions are developed, Forte also develops analytics for those solutions. Research Insights dashboards for Forte EVAL enable customers to easily display their EVAL data in dynamic, visual dashboards for leadership reports and grant renewals. This streamlines the process by providing teams with the right analytics to demonstrate their research ROI.
Nimblify Sponsor Ratings
Finally, customers wanted a way to improve their relationships with sponsors and CROs. Forte's wholly owned subsidiary, Nimblify, developed Sponsor Ratings, a free tool for sites that uses automated, objective data from their CTMS, as well as subjective feedback, to display a holistic view of sponsor/CRO performance to help foster successful and positive partnerships.
To learn more about the latest innovations, visit http://www.ForteResearch.com and http://www.nimblify.com.
About Forte Research and Nimblify
Forte Research Systems, Inc. has been developing specialized solutions for clinical research since 2000. Forte solutions include OnCore Enterprise Research, Allegro CTMS, Forte EDC, Forte Research Evaluation System, and Forte eRegulatory Management System.
In 2015, Forte launched a wholly-owned subsidiary, Nimblify Inc., to solve chronic problems and change the industry by connecting key stakeholders such as sponsors, CROs, and research sites. Nimblify solutions include Sponsor Ratings, Participant Payments, Clinical Operations Analytics including Site Benchmarks and Research Insights, and the Nimblify Marketplace which offers business operations solutions to help relieve administrative tasks, expedite study activation, and allow sites to focus on the research and patients. Nimblify Marketplace services include Protocol Calendars and eCRF Builds.
Forte & Nimblify provide complimentary blog articles, eBooks, webinars and more to support continuous learning on industry topics. With a strong belief in community, collaboration and standards-based development, Forte also facilitates the Onsemble Community and the Allegro Community which brings clinical research professionals together twice a year at the Onsemble Conference.