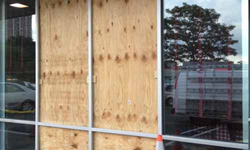 Sometimes customers - both residential and commercial - are confused about what is considered a broken glass emergency
Fort Lauderdale, FL (PRWEB) October 30, 2015
Express Glass Repair and Board Up, one of Fort Lauderdale's top 24 hour glass repair companies, is proud to announce a major update to its informational page on emergency glass repair services. Like customers throughout its South Florida service areas, Fort Lauderdale customers want to know what constitutes an emergency vs. non-emergency when it comes to broken glass doors or windows in their homes or businesses.
"Sometimes customers - both residential and commercial - are confused about what is considered a broken glass emergency," commented Yani Santos, general manager of Express glass. "We consider broken glass an emergency any time further property damage or possible injury to persons might occur. Our updated webpage provides more helpful information about this problem."
To read the company's updated 24/7 emergency web page go to http://www.expressglassfl.com/commercial-glass-repair/emergency-glass-repair-services/. Information about broken glass issues in Fort Lauderdale, Miami, and other cities along the Florida coastline is also available.
Fort Lauderdale Locals Should Prepare for a 24 Hour Glass Repair Emergency during Non-Emergency Moments
Broken patio doors and windows are a daily occurrence in Fort Lauderdale during the Fall season. Storefront windows can break from Florida's hurricane-force winds any time. Homeowners and business owners may have confusion over what is an emergency vs. non-emergency until an accident occurs. When a glass window or door is shattered, the decision should be made as to possible further property damage or injuries to persons at the site.
The best way to address 24 hour glass repair is during non-emergency times. Florida customers can call a repair and replace expert to schedule an on-site visit. The expert will create an individual site profile to use when the sliding glass door or window breaks. Pre-planning means a quicker response time to fixing dangerous broken glass. Fort Lauderdale residents can relax when prepared with a swift and affordable solution to a 24 hour glass emergency.
About Express Glass Repair and Board Up
Express Glass and Board Up Service Inc. is a family owned and operated glass repair business with more than 20 years of experience. Their professional technicians and the large variety of inventory make Express Glass the top glass repair service. If customers are looking for Miami glass repair or Ft. Lauderdale 24 hour glass repair as well as glass repair in Delray Beach or West Palm Beach glass repair, please reach out to the company for a free estimate. If customers need a 24/7 Sliding Glass Door repair service in Ft. Lauderdale or Boca Raton or Miramar, technicians are standing by. The company specializes in sliding glass door repair and window glass repair; technicians will handle any glass replacement situation efficiently. Home or business glass repair is the company's main priority.
Express Glass Repair and Board up
http://www.expressglassfl.com/