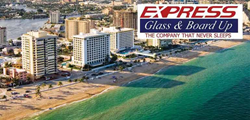 Many times, companies that have served a community for a while tend to get lazy and indifferent to what it means to be the best
Fort Lauderdale, FL (PRWEB) March 15, 2016
Express Glass and Board Up, a top-rated glass repair company servicing South Florida including Ft. Lauderdale, Miami, and West Palm Beach, is proud to announce the publication of a revised mission statement on being the best glass repair service. The company is known to be the most Internet-savvy of all the glass repair companies in the region, and uses its lively blog to communicate with its highly motivated customer base.
"Many times, companies that have served a community for a while tend to get lazy and indifferent to what it means to be the best," explained Yaniet Santos, general manager of Express Express. "We've been around for twenty years and understand that a glass service has to evolve to meet the needs of their customers. That's why we took the time in January to revise our mission statement, and have not publicized it to the website for residents in our primary markets of Fort Lauderdale, Miami, and West Palm Beach."
To review the company mission statement on being the best glass repair service please visit http://www.expressglassfl.com/glass-repair. The page explains what it means to be the 'best,' with an eye to a more philosophical than practical understanding of the term.
A Company Mission to be the Best in Glass Repair Now and Forever
Fort Lauderdale, Miami, and West Palm Beach residents have several locally owned businesses serving the community to choose from when they look for glass repair. In addition, there are national chains which are not noted for their commitment to South Florida as a local business. Many times, long-term shop owners, or distant national chains, may become too comfortable and lose focus on being the best. Even the most beloved local service, such as glass repair, cannot rely on customer loyalty alone. A renewed commitment to evolving customer needs is what can help a Fort Lauderdale business continue to thrive. The first aspect of the renewed mission statement is a clarification of what it means to be a locally owned glass repair service.
Express Glass has recently announced, therefore, a revised mission statement on its commitment to provide customers with the best in glass repair service now and forever. The family-owned service has served the Florida community for twenty years. Continuing to offer the best in customer service, materials and technology in glass repair is the company promise. Among the features explained in the statement are the company's policy of being neutral when it comes to repairing or replacing glass windows or doors. The company commitment to being the best means explaining all options to the customers, whether those be to repair, or replace, a glass window or door.
About Express Glass and Board Up
Express Glass and Board Up Service Inc. is a family owned and operated glass repair business with more than 20 years of experience. Professional technicians and the large variety of inventory make Express Glass the top glass repair service. If customers are looking for Ft. Lauderdale glass repair as well as glass repair in Delray Beach or West Palm Beach glass repair, please reach out to the company for a free estimate. If customers need a 24/7 Sliding Glass Door repair service in Fort Lauderdale or Boca Raton or Miramar, technicians are standing by. The company specializes in sliding glass door repair and window glass repair; technicians will handle any glass replacement situation efficiently. Home or business glass repair is the company's main priority.
Express Glass Repair and Board up
http://www.expressglassfl.com/