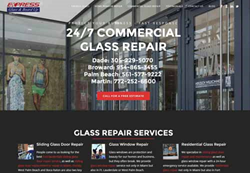 We replace and repair a lot of broken glass, especially during hurricane season
Fort Lauderdale, FL (PRWEB) October 19, 2015
Express Glass & Board Up, Fort Lauderdale's top rated glass repair service, announces a new blog post about 24 hour emergency glass repair and recycling. Glass repair can be affordable, simple and environmentally friendly. Express Glass sends replaced and shattered window glass to recycling centers.
"We replace and repair a lot of broken glass, especially during hurricane season," said Yaniet Santos, general manager of Express Glass and Board up. "All that shattered glass would just go into a landfill, but instead we are thinking environmentally and send it to be recycled, to the extent possible. This is just another way to care for our community."
To read the blog post about the importance of glass repair and recycling in Ft. Lauderdale, go to: http://www.expressglassfl.com/blog/glass-window-replacement/regifting-good-recycling-glass-windows-doors-good/. There one can learn about glass repair and replacement in the Florida area.
Glass Repair Can Be Environmentally Friendly in Fort Lauderdale
Fort Lauderdale residents enjoy living along the Florida coastline with pristine views and ocean wildlife. Many locals actively care for the environment by cleaning debris from beaches and sending trash to recycling centers. Home and business owners may not be aware that preserving Ft. Lauderdale's natural beauty can extend to glass repair, both commercial and residential in Fort Lauderdale and all of Broward county. Broken home windows and patio glass can be repurposed.
Express Glass and Board Up is proud to announce an updated blog post about the importance of glass recycling program. Shattered glass from windows and sliding doors are a hazard to the environment as well as the home. Express Glass extends the mission of offering the best customer service to broken glass disposal. 24 hour emergency glass repair debris is sent to a recycling plant instead of a landfill. This is part of the company's commitment to being green and ensuring Florida beaches continue to be beautiful.
About Express Glass and Board Up
Express Glass and Board Up Service Inc. is a family owned and operated glass repair business with more than 20 years of experience. Their professional technicians and the large variety of inventory make Express Glass the top glass repair service. If customers are looking for Ft. Lauderdale 24 hour emergency glass repair as well as glass repair in Miami, Delray Beach or West Palm Beach, please call the company for a free estimate. If customers need a 24/7 Sliding Glass Door repair or replacement service in Ft. Lauderdale or Boca Raton or Miramar, technicians are standing by. The company specializes in 24 hour glass repair for sliding patio doors and windows. Home or business 24 hour glass repair and replacement is the company's top priority.
Express Glass Repair and Board up
http://www.expressglassfl.com/