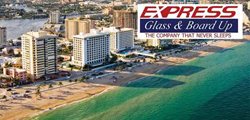 When window glass breaks, Florida customers have to make informed decisions about how to repair it quickly.
Fort Lauderdale, FL (PRWEB) August 24, 2015
Express Glass (http://www.expressglassfl.com), Fort Lauderdale's experts in glass replacement and repair, is proud to announce increased customer knowledge in emergency glass repair due to an innovative public relations effort launched in July, 2015. The company continues to reach Florida residents and businesses through mobile devices, iPads and laptops providing educational information about the value of smart glass repair and replacement.
"When window glass breaks, Florida customers have to make informed decisions about how to repair it quickly," noted Yaniet Santos, general manager of Express Glass. "Our PR outreach has made it simple for them to pick up any mobile device and look at positive reviews, blogs and information for a fast and smart solution when an emergency strikes. We know it's working because recent calls prove they know more about what we do."
The centerpiece of the Public Relations outreach has been social media. To view, for example, the company's Fort Lauderdale page with recent updates on emergency glass repair, please visit https://plus.google.com/117547181416928531272/about?hl=en. At that page one can click up to "posts," and there see posts on the topic published as part of the July, outreach.
Public Relations Efforts In Glass Repair Creates Smart Customers
When glass windows break due to a hurricanes, vandalism or accidents, Florida residents want quick answers and fast service. Being able to find the best in glass repair on their mobile phone or ipad is crucial. Public relations for this moment requires more than listing a company name and contact number. Customers demand knowledge about affordable and professional glass repair to make the right decision. Express Glass has raised awareness providing important answers to all shattered glass problems through social media, blog posts, videos and website pages.
The most important public relations tool is the reviews of other pleased Ft. Lauderdale locals. Five star reviews on Google+ by happy customers is the best type of customer outreach. Florida residents will post satisfaction when they experience affordable, trustworthy and friendly glass repair service. Express Glass and Board Up understands good public relations moves beyond a one-page website into real answers and support for quality glass repair service. Satisfied customers prove intelligent public relations works.
About Express Glass Repair and Board Up
Express Glass and Board Up Service Inc. is a family owned and operated glass repair business with more than 20 years of experience. Their professional technicians and the large variety of inventory make Express Glass the top glass repair service. If customers are looking for Ft. Lauderdale glass repair or Miami glass repair as well as glass repair in Delray Beach or West Palm Beach glass repair, please reach out to the company for a free estimate. If customers need a 24/7 Sliding Glass Door repair service in Ft. Lauderdale or Boca Raton or Miramar, technicians are standing by. The company specializes in sliding glass door repair and window glass repair; technicians will handle any glass replacement situation efficiently. Home or business glass repair is the company's main priority.
Express Glass Repair and Board up
http://www.expressglassfl.com/