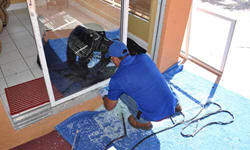 Our blog series about repair vs. replace sliding glass doors is getting a lot of attention as the Fort Lauderdale market accelerated
Fort Lauderdale, FL (PRWEB) August 27, 2015
Express Glass is proud to announce three new informative blog posts explaining the difference between repairing vs. upgrading sliding glass doors to attract serious home buyers. Ft. Lauderdale's real estate market continues to grow and property owners want their listing to stand out in a buyer's market. Searching for easy and budget-friendly upgrades, such as installing new sliding glass doors are a popular choice. Yet customers remain confused about the return-on-investment of a new door vs. repairing an old one.
"Our blog series about repair vs. replace sliding glass doors is getting a lot of attention as the Fort Lauderdale market accelerated," commented Yani Santos, general manager of Express Glass. "Customers want economical upgrades that make their home stand out in the real estate market. They are learning that it is important not to skimp on professional sliding door replacement. Beautiful new patio doors installed right can make a difference in real estate offers."
To browse the blog page about how to add value to a Fort Lauderdale or other South Florida home through sliding door replacement go to http://www.expressglassfl.com/blog/category/sliding-glass-door-replacement/ . There, information can be found about glass door and window repair in the Ft. Lauderdale area and other cities along the Florida coast. The Fort Lauderdale page can be reached directly at http://www.expressglassfl.com/fort-lauderdale-glass-window-repair/.
Florida Locals Contemplate Repair vs. Replace When Researching Home Upgrades
Ft. Lauderdale residents know the importance of increasing curb appeal before listing a house for sale. In the current real estate market, Florida home buyers will make better offers on clean, turn-key properties. Upgrading kitchens and baths to increase buyer interest is popular but new patio doors complete the picture. Interested buyers want to enjoy their beach and patio views from crystal clear, easy-sliding glass doors. Express Glass has a current series of blog posts sharing important tips regarding the decision to repair or replace sliding doors.
Florida locals want the best value when searching for services. Many homeowners will consider do-it-yourself vs. a professional for sliding door replacement to save money. DIY patio door replacement may seem cheaper, but can turn into an expensive and time-consuming task. The attention to detail and skills needed for proper sliding door replacement is vital. The blog series explains why calling an expert to get the work done right the first time saves money and time for Ft. Lauderdale residents.
About Express Glass Repair and Board Up
Express Glass and Board Up Service Inc. is a family owned and operated glass repair business with more than 20 years of experience. Their professional technicians and the large variety of inventory make Express Glass the top glass repair service. If customers are looking for Miami glass repair or Ft. Lauderdale glass repair as well as glass repair in Delray Beach or West Palm Beach glass repair, please reach out to the company for a free estimate. If customers need a 24/7 Sliding Glass Door repair service in Ft. Lauderdale or Boca Raton or Miramar, technicians are standing by. The company specializes in sliding glass door repair and window glass repair; technicians will handle any glass replacement situation efficiently. Home or business glass repair is the company's main priority.
Express Glass Repair and Board Up
Web. http://www.expressglassfl.com