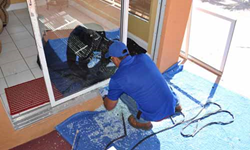 Memorial day is the unofficial kickoff of the summer period
Fort Lauderdale, FL (PRWEB) May 25, 2016
Express Glass of Fort Lauderdale, a top glass repair service including for sliding glass doors, is issuing a clarification on its popular 10% coupon for glass repair and replacement work not only in Fort Lauderdale but in surrounding communities. While many competitors shut down for the holiday, not only will Express Glass be open but it will honor its 10% coupon for those customers who reside in Fort Lauderdale and so indicate.
"Memorial day is the unofficial kickoff of the summer period," commented Yaniet Santos, General Manager of Express Glass. "While many of our competitors, take the day off, we are known as the 'company that never sleeps.' Accordingly, not only will we be open but we are clarifying that our 10% coupon will be available to those who live in Fort Lauderdale and so indicate."
To learn more about Express Glass, Ft. Lauderdale 10% glass repair coupon go to http://www.expressglassfl.com/fort-lauderdale-glass-window-repair/. There, scroll about halfway down the page and click on the 'instant 10% off.' It is important to mention that one resides in Fort Lauderdale to take advantage of this Memorial Day opportunity.
Fort Lauderdale Marks the Start of Summer with an Amazing Offer
A three-day weekend provides Florida locals an extra day to plan for glass repair and replacement for sliding glass doors and windows. Glass repair coupons offer the budget-wise incentive homeowners and businesses search for. While competitors not only close for the day but also invalidate any discounts or coupons, Express Glass has made it easier for Fort Lauderdale locals to save money as they kick off Summer, 2016.
About Express Glass Repair and Board Up
Express Glass and Board Up Service Inc. is a family owned and operated glass repair business with more than 20 years of experience. Their professional technicians and the large variety of inventory make Express Glass the top glass repair service. If customers are looking for Fort Lauderdale glass repair or glass repair coupons as well as Miami and Lake Worth, Florida, glass repair, please reach out to the company for a free estimate. Glass repair coupons include; 24/7 emergency glass repair, sliding glass door repair service and window repair and replacement for homes and businesses. Express Glass professionals will handle any glass replacement situation efficiently. Home or business glass repair is the company's main priority.
Express Glass Repair and Board up
http://www.expressglassfl.com/