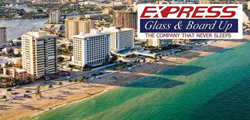 Our commitment to the community is number one to us
Fort Lauderdale, FL (PRWEB) October 24, 2016
Express Glass & Board Up, a top sliding glass door repair service in Fort Lauderdale, FL., is proud to announce a revitalized commitment to rapid response service. Residents experiencing a broken glass emergency at the residence or business can rely on a glass repair expert within thirty minutes of the call.
"Our commitment to the community is number one to us," explained Yaniet Santos, General Manager of Express Glass. "When someone calls because a window or patio door has shattered, it is not our job to figure out the level of emergency it is. It is only our job to get there fast and repair the glass. That's why our rapid response team is committed to showing up and getting the job done 24/7."
To learn more about the revitalizd commitment of Express Glass to rapid response on glass repair issues in Fort Lauderdale, please visit: http://www.expressglassfl.com/blog/glass-repair/ft-lauderdale-repair-service-company-never-sleeps-us/. Information about 24/7 emergency sliding glass door repair and window repair in the home or a business is also available.
A Leading Fort Lauderdale Sliding Glass Door Repair Service Standing By Rapid Response Promise
Top customer service can be a popular buzzword for many companies serving the public, including Fort Lauderdale. The phrase is frequently included in a company mission statement. A customer service commitment may mean a business will replace any damaged product a customer returns. It can also mean associates are standing by to quickly respond to customer calls. An important test to a company's commitment can be when the customer is in need of support outside regular business hours. If a Fort Lauderdale restaurant needs emergency sliding glass door repair, the call may come in at 1am on a holiday weekend. That is a time when the company can be tested to fulfill a customer service commitment.
Express Glass, Fort Lauderdale's sliding glass door repair leader has recently announced the company's commitment to rapid response service. If a storefront window has been shattered by high winds or vandals, the reason should not be important. The time of the emergency should not be a concern either. Fort Lauderdale residents demand sliding glass door replacement at all hours, day or night. Express Glass has issued a commitment to serving the public with a 30 minute rapid response to sliding glass door repair and window replacement. A strong commitment to customer service includes trusted glass repair support. Fort Lauderdale residents can rely on a 30 minute rapid response to repair broken glass in the home or at a business.
About Express Glass and Board Up
Express Glass and Board Up Service Inc. is a family owned and operated glass repair business with more than 20 years of experience. Professional technicians and the large variety of inventory make Express Glass the top glass repair service. If customers are looking for Fort Lauderdale 24 hour emergency sliding glass door repair as well as glass repair in Miami or West Palm Beach, please call the company for a free estimate. If customers need a 24/7 Sliding Glass Door repair or replacement service in Ft. Lauderdale or Boca Raton or Miramar, technicians are standing by. The company specializes in 24 hour glass repair for sliding patio doors and windows. Home or business 24 hour glass repair and replacement is the company's top priority.
Express Glass Repair and Board up
http://www.expressglassfl.com/