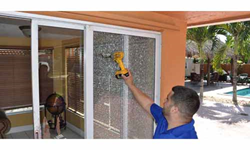 Accidents can happen during chaotic moments, but glass repair emergencies doesn't have to add stress and worry
Fort Lauderdale, FL (PRWEB) September 22, 2017
September 22, 2017 - Fort Lauderdale, FL.
Express Glass and Board Up, a top Fort Lauderdale sliding glass door repair service has released an important new blog post. The post explains that the need for emergency glass repair service does not have to be stressful, even after Hurricane Irma. As Florida residents brace for hurricane season and any additional storms, pre-planning glass repair needs can help ensure a seamless fix.
"Accidents can happen during chaotic moments, but glass repair emergencies doesn't have to add stress and worry," explained Yaniet Santos, general manager of Express Glass. "We want to make the community of Fort Lauderdale aware that we are available to come to their property anytime to evaluate their glass needs. Then, when glass does shatter, we are there with the right type and fit to quickly fix the problem. No drama."
To review the newly released post for emergency sliding glass door repair for Fort Lauderdale and other Florida cities go to; http://www.expressglassfl.com/blog/emergency-window-repair/ft-lauderdale-broken-window-thats-emergency-glass-repair/.
Emergency preparedness can include a pre-evaluation of glass doors and windows for properties. Pre-planning sliding glass door repair needs can help quicken the response to fixing broken glass. A pre-planned property profile can ensure the right type and size of glass is available for a seamless replacement. To learn more about emergency glass repair services please visit; http://www.expressglassfl.com/home-window-repair/emergency-glass-repair-services/).
No Drama for Emergency Sliding Glass Door Repair in Fort Lauderdale
Florida residents have been preparing for a rough hurricane season and may be concerned about what to expect, even after Hurricane Irma. As some Fort Lauderdale locals pack up and drive out of town for safer ground, many may be uncertain what will happen after returning home. Images of waterlogged homes and shattered windows from Hurricane Harvey and Hurricane Irma may add to the fear. Taking the most detailed precautions cannot promise a home will remain dry and safe after the next hurricane arrives. If a Fort Lauderdale local experiences anxiety over shattered windows and glass doors, it may calm the nerves to know emergency sliding glass door repair can be pre-planned and receive quick post-storm action.
For these reasons, Express Glass has released a new post to help raise awareness around emergency sliding glass door and window repair. Fort Lauderdale homeowners may not want to wait weeks for sliding glass door repair after returning home. Before Florida residents leave for higher ground, a visit from a glass repair professional can be scheduled. A personal home profile, including dimensions and type of window glass needed, can help speed up emergency sliding glass door repair after a storm. If Florida locals experience anxiety over cleaning out a home after a devastating hurricane, sliding glass door repair should not be on the list of worries. Expectations for quick emergency glass repair can calm the nerves and ensure a quicker post-hurricane recovery.
About Express Glass Repair and Board Up
Express Glass and Board Up is a family owned and operated glass repair business with more than 20 years of experience. Their professional technicians and the large variety of inventory make Express Glass the top glass repair service. If customers are looking for Fort Lauderdale 24 hour glass repair as well as glass repair in Delray Beach or West Palm Beach glass repair, please reach out to the company for a free estimate. If customers need a 24/7 Sliding Glass Door repair service in Ft. Lauderdale or Boca Raton or Miramar, technicians are standing by. The company specializes in sliding glass door repair and window glass repair; technicians will handle any glass replacement situation efficiently. Home or business glass repair is the company's main priority.
Express Glass Repair and Board up
http://www.expressglassfl.com/