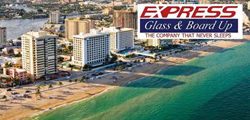 Local shop and restaurant owners prepare early for heavy crowds and possible accidents like broken glass. We've updated our webpage to remind businesses that Express Glass will be offering emergency 24/7 storefront glass repair during Spring Break 2016
Fort Lauderdale, FL (PRWEB) February 29, 2016
February 29 2016. Fort Lauderdale, FL.
Express Glass and Board Up, a top-rated storefront glass repair service in Fort Lauderdale, is proud to announce timely content update just in time for Spring Break, 2016. As business owners prepare for Spring Break in Fort Lauderdale and all of South Florida, Express Glass has made important updates to its web page on storefront and business glass repairs to remind shop and restaurant owners that emergency storefront glass repair will be available in March.
"Fort Lauderdale and Miami are Florida's epicenter cities for Spring Break," commented Yaniet Santos, General Manager of Express Glass.
"Local shop and restaurant owners prepare early for heavy crowds and possible accidents like broken glass. We've updated our webpage to remind businesses that Express Glass will be offering emergency 24/7 storefront glass repair during Spring Break 2016."
To view the page about storefront glass repair go to; http://www.expressglassfl.com/storefront-glass-repair/. Information about Express Glass 24 hour emergency glass repair and support for Fort Lauderdale and Miami shops and restaurants is available.
Fort Lauderdale Businesses Receive a Lucky Break in Storefront Glass Repair for Spring Break 2016.
Florida has been known as the top destination for Spring Break celebrations. Fort Lauderdale and Miami, Florida's largest cities welcome the largest group of Spring Breakers every year. To prepare for the wave of visitors, business owners may plan to prepare for accidents that can come with big and often unruly crowds. Emergency storefront glass repair is an important item on the Spring Break preparedness checklist of any business. Ft. Lauderdale shop owners must be prepared to fix broken storefront glass and windows before it becomes a hazard to customers.
Express Glass has released a timely web page update about emergency storefront glass repair in the Fort Lauderdale area. The company offers 24/7 broken storefront glass emergency service, with extended service during March. Daily business operations during Spring Break should not be affected by shattered storefront glass. Emergency storefront glass repair is available to all Ft. Lauderdale shops, restaurants and boutiques during the busy Spring Break week. With broken storefront glass repaired quickly, Florida businesses and customers can enjoy the Spring Break celebration.
About Express Glass and Board Up
Express Glass and Board Up Service Inc. is a family owned and operated glass repair business with more than 20 years of experience. Technicians and the large variety of inventory make Express Glass the top glass repair service. If customers are looking for Fort Lauderdale storefront glass repair or emergency storefront glass repair in Delray Beach or Ft. Lauderdale, reach out to the company for a free estimate. 24/7 emergency storefront glass repair and replacement services are also available. If customers need a 24/7 Sliding Glass Door repair service in Fort Lauderdale, Miami, or West Palm Beach, technicians are standing by. The company specializes in sliding glass door repair and window glass repair; technicians will handle any glass replacement situation efficiently. Home or business glass repair is the company's main priority.
Express Glass Repair and Board up
http://www.expressglassfl.com/