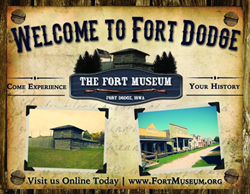 Pam Bygness, who was born a Snell says, "I just find it as an opportunity to share with the community and as an opportunity to honor all of our parents."
Fort Dodge, IA (PRWEB) April 13, 2015
The Fort Museum Main Street is lined with historical buildings, some dating back to the 1850's. A new addition is the McGill, Secor and Snell Land Office that is dedicated to these three families that settled in the area.
Visitors to the Fort Museum will be able to see numerous items depicting the history of Fort Dodge and the surrounding communities. Some of these items include receipt books dating back to 1904. At that time a dozen eggs and oatmeal were only 25 cents. A yearly subscription to the Fort Dodge Daily Chronicle was $5.00.
Additional documents include information on the Lehigh Brick and Tile before they opened for business, letters from a letterman's jacket and even a handmade yearbook dating to 1920 by the Scared Heart High School. At that time, yearbooks were not normally done so that makes it even more special.
The Fort Dodge memorabilia found in the new building depicts all facets of life. Some of the feature items are old medicine bottles from early Fort Dodge pharmacists and buttons on events in the region.
Pam Bygness, who was born a Snell says, "I just find it as an opportunity to share with the community and as an opportunity to honor all of our parents."
The Fort Museum will officially open for the season on May 2nd. The Opening Weekend Festivities will include special activities such as the Frontier Fiddle Band performing from 10 am to 1 pm at the back porch of the Trading Post. They will be playing fiddle tunes, country classics, western swing, bluegrass songs, original and old-time material. The audience is welcome to bring lawn chairs if they want to settle in.
The Fort Museum is located at One Museum Road in Fort Dodge, IA. Featured buildings from the 1850's, Civil War items, General Armistead Quartermaster building, Cardiff Giant history and more can be viewed from May through October. For more information visit http://www.fortmuseum.com or call 515-573-4231.