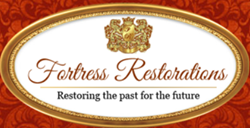 We can travel to London, Surrey and areas in close proximity to provide our expert brick cleaning services.
London (PRWEB) July 17, 2015
Rendering a new lease of life to old properties and creating dynamic new buildings is the forte of Fortress Restorations. Fortress Restorations rolls out a slew of quality services including façade cleaning, building restoration, specialist machinery hire, sandblasting and shot blasting services. The restoration service provider has a reputation to provide comprehensive, professional, prompt and reliable services. Dedicated to maintaining the quality of life and the value of the property investment, Fortress Restorations gets 95% of business through regular clients and referrals.
Replying to a query related to brick cleaning services on offer, one of the executives at Fortress Restorations recently revealed, "We can travel to London, Surrey and areas in close proximity to provide our expert brick cleaning services. However, we can venture further, provided the task challenges our instincts. Be it paint, chewing gum, grime, algae, lichen spores, oil or for that matter bitumen plaguing the walls, we remove it all with perfection. Pebble dash removal, pointing, water repellent sealing, application of anti climb paint and anti graffiti coatings are our other core competencies."
For providing superior brick cleaning services, Fortress Restorations uses the coveted Doff and Jos/Torc Cleaning Systems. The Doff System uses a normal water supply, which is taken into the high-pressure pump unit where the pressure is increased to the required level before entering the Doff Hotbox. The pressure is independent of temperature settings and the operator can easily adjust it as per the need. In this process, the temperature is increased up to 150°C before it passes through a nozzle, which directs the water onto the surface that needs cleaning.
With the intent to offer some insight into the property maintenance services on offer, the executive further stated, "Heritage properties are valued assets and hence require timely and professional maintenance. We have an affinity for accomplishing property maintenance jobs of any size and complexity. Moreover, our prices are within the reach of an average property owner. Whether it is restoration, extension of property, decoration, leaking roof, bug extermination, air conditioning failure or upgrading of locks, we have the means and intent to offer it all."
Fortress Restorations understands the challenges involved in property maintenance and strives hard to resolve them in the best ways possible. Aiming to maintain its impeccable track record in property maintenance, Fortress Restorations employs tried and tested professional approach, thereby ensuring complete peace of mind for clients. The company adheres to quality standards in every project it undertakes. Its team visits the property and comes up with bespoke property maintenance in London packages conforming to the requirements and budget of the client.
About Fortress Restorations:
Fortress Restorations is a team of builders, façade cleaners and restoration and conservation specialists who have years of combined experience. It excels in providing building restoration, construction, and specialist building cleaning, sandblasting and shot blasting services. Fortress Restorations has the experience of restoring many historic properties, ancient monuments, listed buildings and churches to their erstwhile glory. Owing to these reasons, one can say that Fortress Restorations is an obvious destination for those who wish to find brick cleaning service in London.
Contact information:
Fortress Restorations
Registered Office:
Dalton house
60 Windsor Avenue
London
SW19 2RR
Phone: Quote Request: 020 8798 3226 and 07891 595957
General Enquiries: 020 3632 1317
Email Address: contact(at)fortress-restorations(dot)co(dot)uk
Website: http://www.fortress-restorations.co.uk
# # #