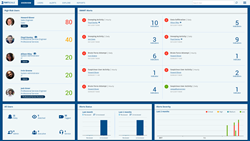 We've made it extremely easy for businesses to begin detecting anomalous and risky user and user account activity
(PRWEB) March 15, 2017
Fortscale 3.0 Enhances the Company's Award-Winning Behavior Analytics with new use cases, intelligent attack monitoring and detection, and a quicker time to value.
SAN FRANCISCO, Calif. – March 15, 2017 – Fortscale Security Ltd., the innovator in machine learning-based user and entity behavior analytics (UEBA) for security, today announced the release of Fortscale 3.0.
The new release builds on Fortscales's award-winning big data analytics and machine-learning UEBA platform, further enhancing its ability to detect and mitigate insider threats. By combining the latest analytics with new investigation tools and use cases, Fortscale 3.0 continues to improve the effectiveness and security performance of enterprises security operations throughout the world.
The high number of recent data breaches underscore the cybersecurity problems that businesses face today. Despite spending millions on security, many organizations continue to succumb to cybercrime. Stolen or misused passwords, privilege violations, and user error are the most common cause of these security incidents. It's clear that the industry needs a better way to monitor the action of users and their accounts in order to detect anomalies and unauthorized activity.
With the only pure-play machine learning UEBA product on the market, Fortscale 3.0 and its exclusive focus on detecting risks associated with user activity helps mitigate the most common types of cybercrime.
"Fortscale 3.0 is a significant new release." said Idan Tendler, founder and CEO at Fortscale. "We have worked closely with our customers throughout the world to identify the most critical and needed features. The proactive threat hunting capabilities greatly improves our customer's security posture, and makes their security team more effective than ever, and the additional data loss prevention tools make this release transformative."
Fortscale 3.0 New Features Include:

Threat Hunting – A newly introduced Users module enables analysts to take advantage of behavioral filters and risk scores to build use-case driven target lists. This allows the environment to be intelligently and continually monitored for very specific behavior and attack patterns.
UEBA for Data Loss Prevention (DLP) – By applying Fortscale's UEBA technology to the data generated by DLP systems, customers will experience a dramatic increase in the detection of unauthorized data transfer or exfiltration. The new release supports network, endpoint, storage, and cloud based DLP solutions.
Fortscale 3.0 instantly upgrades a company's UEBA security infrastructure. "We've made it extremely easy for businesses to begin detecting anomalous and risky user and user account activity. I know of no other security tool that can have as much impact on the most common types of cybercrime. By adding Fortscale 3.0 to their security infrastructure, organizations gain a much-needed user and entity visibility and analysis platform, strengthening their security stance and maximizing their security investment" added Tendler.
The product's ability to uncover insider threats and improve risk-based decisions will dramatically minimize the impact of cyberattacks.
Fortscale 3.0 is available to our customers as a standalone UEBA solution or as part of Presidio the new UEBA embedded engine. It can be integrated into on-premise security products or as a UBEAaaS in cloud products, providing customizable and unique data models, behavioral capabilities and application program interfaces (APIs) designed to make integration with security infrastructure solutions, such as SIEM, EDR, EPP, CASB, DLP, and IAM, simple.
About Fortscale
Fortscale gives you real-time visibility into the actions of users and entities in your environment and uncovers insider threats by identifying unusual behaviors that pose a risk to your business. Combining predictive, big data analytics and advanced machine learning, the Fortscale User and Entity Behavioral Analytics (UEBA) engine can be deployed as a stand-alone solution optimized for security operations centers (SOCs) or natively embedded in security infrastructure solutions – SIEM, EDR, EPP, CASB, DLP, IAM – to improve risk analysis and decision-making. Upon deployment, Fortscale starts processing user and entity data from throughout your security infrastructure, autonomously modeling behaviors, and quickly and accurately identifying anomalous, risky activity to uncover insider threats. Backed by Intel Capital, Blumberg Capital, Swarth Group, CME Ventures, Evolution Equity and Valor Capital, Fortscale's insider threat solution lowers analyst stress-levels and improves your security posture overall.
For more information, visit https://fortscale.com/