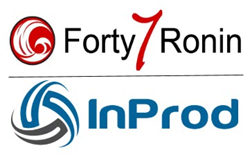 We are excited to join forces with such a well respected and capable organization as Forty 7 Ronin to bring the InProd platform into the North America market.
COLORADO SPRINGS, Colo. (PRWEB) June 12, 2019
Forty 7 Ronin, a Colorado corporation is excited to announce its new joint venture with Australian based InProd Solutions to bring their Genesys configuration management solution to North American based PureEngage contact centers.
The combined expertise of Forty 7 Ronin and InProd brings contact centers a more accurate and stable PureEngage premise environment. Backed by the industry experience of Forty 7 Ronin InProd implementation, companies can experience reduced downtime, easier reporting and management, and simplified PureEngage Configuration.
The joint venture will create InProd America, an organization dedicated to bringing the InProd platform to the North American market, along with the domain expertise from two continents to ensure success.This will allow for simplified implementation and integration of the service with the potential of follow-the-sun support.
InProd Solutions provides the world's leading DevOps & Configuration Management platform for the Genesys Engage platform, called InProd. Focused on accelerating the rate of change while increasing quality within the CX space. InProd addresses common challenges faced by large Genesys environments enables reuse of previous work, enforces change control processes and automates production deployments. InProd reduces the engineering effort required to perform each change which enables the technical team to deliver more strategic value back to the organization.
"We are excited to join forces with such a well respected and capable organization as Forty 7 Ronin to bring the InProd platform into the North America market. The cultural and corporate attitudes of the two organizations make a great fit. By combining local expertise with the InProd platform we hope to elevate and redefine Genesys Engage Configuration Management within the region." - Jarrod Neven - InProd Solutions Director
"Forty 7 Ronin is excited to be partnered with Jarrod and the rest of the InProd team. Looking forward to working with a company that is fun, easy to work with and really cares about customers. InProd's product line a methodology combines well with Forty 7 Ronin's technical knowledge of the industry, to make this a great opportunity for anyone running Genesys PureEngage. Perfect for anyone who wants better control over their own environment." - Mark Stallings - Managing Partner of Forty 7 Ronin
For more information, get in touch with us at usa(at)InProd(dot)io.
About Forty 7 Ronin
Forty 7 Ronin was founded in Colorado in 2011 by senior members of the contact center and speech recognition industry. They've developed better methods to boost contact center performance. In addition to speech recognition tuning, the company offers VUI design, web application development, reporting and analytics, legacy migration, and hosted IVR solutions. Forty 7 Ronin also provides training courses and certifications delivered in a variety of formats, including classroom, onsite and online – using real world examples and scenarios.
About InProd Solutions
InProd was founded in Australia in 2015 with the intention of developing a simplified Genesys configuration and management platform. Leveraging their extensive experience within the PureEngage system they built out a powerful extension that includes visual reporting, change control management, and audit history for the contact center environment. This helps give call centers the confidence they need to make decisions efficiently, act as changes develop, and keep their environment stable and live.