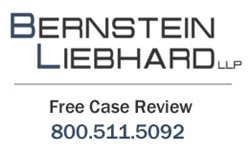 "We are not surprised to see the number of cases filed in this Fosamax lawsuit litigation continuing to rise.
New York, NY (PRWEB) October 26, 2013
More than 2,900 cases have now been filed in a consolidated Fosamax lawsuit (http://www.consumerinjurylawyers.com/fosamax/Fosamax-Femur-Fracture-Lawsuits.html) litigation established in New Jersey's Atlantic County Superior Court, Bernstein Liebhard LLP reports.
According to a Case List update posted on the Court's website, a total of 2,926 Fosamax side effect lawsuits were pending in the multicounty litigation as of October 19th. These cases similarly allege that long-term use of the bisphosphonate, which is prescribed to treat patients with osteoporosis, may cause atypical femur fractures and other side effects. The most recent Case Management Conference in this proceeding took place on October 3rd, 2013. (In re: Fosamax Litigation, No. 282, N.J. Super. Ct)
"We are not surprised to see the number of cases filed in this Fosamax lawsuit litigation continuing to rise, as our Firm regularly hears from individuals who allegedly sustained atypical femur fractures after long-term use of the medication," says Bernstein Liebhard LLP, a nationwide law firm representing victims of defective drugs and medical devices. The Firm is currently offering free and confidential case evaluations to those who may have experienced Fosamax side effects.
Fosamax Lawsuits
In the consolidated Fosamax lawsuit proceeding established in New Jersey, the first trial concluded in April with a ruling in favor of Merck & Co. The Plaintiff argued that Merck had knowledge from its own consultants of the drug's potential to cause spontaneous femur fractures in users five years prior to its 1995 approval. According to her lawsuit, the Plaintiff also alleged that Fosamax became over-prescribed after doctors became reliant on bone-density testing to diagnose osteoporosis, instead of clinical criteria including previous bone fractures. (Glynn v. Merck Sharp & Dohme Corp., 3:11- cv-05304, U.S. District Court, District of New Jersey)
A federal multidistrict litigation for Fosamax lawsuit claims is also underway in the U.S. District Court, District of New Jersey, where court records indicate that hundreds of additional cases have been filed.
Safety concerns about Fosamax have grown steadily over the past three years, since the U.S. Food and Drug Administration (FDA) issued an advisory in October 2010 that warned the general public about the risk for bisphosphonates like Fosamax to cause atypical femur fractures. In May 2012, the federal agency published a study concluding that long-term use of the drug (i.e. longer than five years), may offer patients little benefit given its association with femur fractures and other injuries.**
If you took Fosamax for at least three years and were diagnosed with a femur fracture, you may be eligible to file a lawsuit seeking compensation for damages incurred by your injuries. Learn more about Fosamax side effects by visiting Bernstein Liebhard LLP's website. You may also call an attorney to find out more at 800-511-5092.
**nejm.org/doi/full/10.1056/NEJMp1202619
About Bernstein Liebhard LLP
Bernstein Liebhard LLP is a New York-based law firm exclusively representing injured persons in complex individual and class action lawsuits nationwide since 1993, including those who have been harmed by dangerous drugs, defective medical devices and consumer products. The firm has been named by The National Law Journal to the "Plaintiffs' Hot List," recognizing the top plaintiffs' firms in the country, for the past 11 consecutive years.
Bernstein Liebhard LLP
10 East 40th Street
New York, New York 10016
800-511-5092
ATTORNEY ADVERTISING. © 2013 Bernstein Liebhard LLP. The law firm responsible for this advertisement is Bernstein Liebhard LLP, 10 East 40th Street, New York, New York 10016, (212) 779-1414. Prior results do not guarantee or predict a similar outcome with respect to any future matter.
Contact Information:
Felecia L. Stern, Esq.
Bernstein Liebhard LLP
info (at) consumerinjurylawyers (dot) com
http://www.consumerinjurylawyers.com