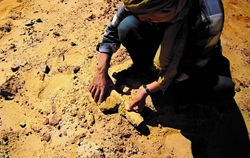 Everyone is buying dinosaur fossils. Many as a cute original gift, but also many for collecting or investing.
San Francisco, CA (PRWEB) December 20, 2016
Jurassic-Dreams.com has become the world's largest dinosaur fossils store, gaining a high reputation among collectors. The key is that the authenticity is guaranteed by a real paleontologist, not a hobbyist, the owner explains. And while growing, Jurassic-Dreams.com has had to extend the fossils catalog until doubling it to cope with the demand.
➜ The milestone of more than 600 authentic dinosaur fossils in stock was achieved a few weeks before the Black Friday
➜ 40+ species of dinosaurs, reptiles, sharks and fish are on the catalog compared to less than 20 a year ago
➜ Over $350,000 in sales bring a Year Over Year growth of nearly 45%
The dinosaur fossils are a semi-luxury item becoming trendier among collectors and also with the general public as an unique and original gift idea, and Jurassic Dreams is cashing in on it. The once small one-man company is turning in 2016 into a profitable world leader in commercial paleontology.
It was a little over 7 years ago when a young fossil hunter started selling his finds online. Like many others, he had a passion for dinosaurs since he can remember. However, instead of going about in life like many other fossil aficionados that actually make a living in something not related to paleontology, he went all-in and got a Degree in Geology with Major in Paleontology. He has since explored most the well and also little known quarries in Morocco, a country still mainly unexplored for dinosaur quarries. He takes advantage of being located in southeast Spain, which is a 2 day trip from the majestic North African dinosaur fossil sites.
The owner is Juan A. Poblador, an expert paleontologist at the wheel of Jurassic-Dreams.com. When talking to him at a conference in Spain, he responds with a strong accent, and with a passion for paleontology with which he absolutely infects everyone.
The key to success has been a combination of factors. To start with, none of the other available retailers have in stock such a variety of dinosaur fossils. The existing market players are focused only on Megalodon teeth, trilobites, ammonites and minerals.
In addition, Jurassic Dreams seems to have tackled the authenticity concern in a unique way, issuing a Certificate of Authenticity which no other competitor is currently able to provide--because Jurassic Dreams' owner is an accredited paleontologist--and their data sheets are the most complete in the industry.
Jurassic Dreams is taking advantage of a large niche where everyone is buying and for many different reasons: people purchase fossils it as a gift, but also specialized collectors, and investors looking for more expensive specimens.
Reports have shown that part of the potential public is sometimes reluctant to buy because they think that selling fossils is unethical. However, the owner of Jurassic Dreams explains that "there are more fossils buried than dozens of generations could ever unearth. The important point is to recognize what has a scientific value and what not. There are wonderful fossil specimens which are found and, despite being beautiful, do not contribute further to paleontology because similar pieces are already available in many museums. For the pieces which hold certain significance, obviously have to be taken care of properly, which is something done at Jurassic Dreams".
The startup owner describes Jurassic-Dreams.com as the fossils Amazon, but with a proper paleontologist behind the shelves. It is certain that the key for this online store has been being able to ship all items within 24 hours and have a fast delivery, in contrast to other aficionado stores, which are the most common in the fossil selling segment.