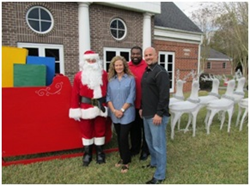 League City, TX (PRWEB) December 23, 2014
Christmas came early for Devereux Texas, which spread smiles Saturday, Dec. 13 at its first ever Jingle Jam. The event, sponsored by Simien Properties, was a celebration for foster care families for the holidays.
Guests gathered at Devereux's League City campus to sing Christmas carols, decorate stockings and enjoy a delicious lunch of turkey and dressing. The highlight was a visit from Santa Claus himself, who handed out gifts donated by generous sponsors recruited by Jimmy Simien. Additional help came from members of Alvin's Gleaner Full Gospel Church, who assisted in the day's crafts and Santa photos.
Devereux Texas Executive Director Pam Reed called the Jingle Jam a success and thanked families for joining in the celebration.
"Our foster care families make a big commitment when they open up their hearts and homes to these wonderful children," she said. "This was a way to bring all of our Devereux families together to have some fun and thank them for the loving care they offer."
For more information about the Jingle Jam or Devereux Texas, call 281.316.5423 or visit devereuxtx.org.
About Devereux Texas:
Devereux Texas is part of a leading national nonprofit organization that specializes in the care of children, adolescents and adults experiencing a wide range of behavioral, emotional and mental health disorders. Texas services include: long-term hospitalization and intensive residential services for adolescents; residential services for children and adults; and foster care services for birth to 18 years of age. For more information about Devereux Texas, please call Joni Robertson, Director of Development at 281.316.5423 or visit http://www.devereuxtx.org.