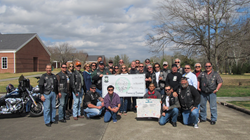 League City, TX (PRWEB) March 25, 2015
Devereux Texas clients have more reasons to smile, thanks to a generous donation from the Deacons of Deadwood Motorcycle Club. On Feb. 7, the Houston-based club presented Devereux with a $50,000 check.
The gift is part of the Deacons' ongoing efforts to make a difference to Houston-area charities, said Kirk Lane, president of the motorcycle club.
"Devereux Texas is doing incredible work. The staff is changing lives, one person at a time," said Lane. "This is a small gesture, compared to all that they do, but we are proud to help make a difference."
Founded in 2002, the Deacons of Deadwood promotes fun, safe motorcycle riding and maintains a history of giving back. The organization has donated over $1 million to area charities that benefit children, more than all other Houston motorcycle clubs combined.
Such generosity allows Devereux to continue its labor of love, Devereux Texas Executive Director Pam Reed said.
"For years, the Deacons have graciously stepped in to make a difference, not only through financial donations, but also volunteering their valuable time," said Reed. "These bikers have hearts of gold."
Reed said the much-needed funds will go to support Devereux Texas' programs and serve to provide the children with clothing, food and other necessities.
"On behalf of the Devereux staff and clients, we want to thank the Deacons for their loving generosity," she said. "It's people like them who help to make a real difference in this world."
For more information about Devereux Texas, call 281.316.5423 or visit devereuxtx.org.
About Devereux Texas:
Devereux Texas is part of a leading national nonprofit organization that specializes in the care of children, adolescents and adults experiencing a wide range of behavioral, emotional and mental health disorders. Texas services include: long-term hospitalization and intensive residential services for adolescents; residential services for children and adults; and foster care services for birth to 18 years of age. For more information about Devereux Texas, please call Joni Robertson, director of development at 281.316.5423 or visit http://www.devereuxtx.org.