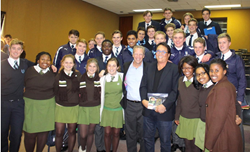 The Foundation for Financial Freedom is being launched to provide youth with financial education that is never taught in school. ~ Tom Wheelwright, Author, Tax-Free Wealth
Tempe, Arizona (PRWEB) September 27, 2016
In sync with back-to-school and a 2016 global speaking tour, Author, CPA and CEO of ProVision Wealth Tom Wheelwright is launching a Foundation for Financial Freedom for ages 6-18. With the lack of financial education in our global school systems, Mr. Wheelwright is dedicated to providing youth with the tools needed to learn how to be a successful entrepreneur and/or investor.
During a visit to St. Andrews College Prep School in Grahamstown, South Africa, this summer, Robert Kiyosaki ("Rich Dad Poor Dad") and Tom Wheelwright ("Tax-Free Wealth") spent a week teaching the 10th, 11th and 12th graders the Rich Dad principles for how to invest in assets that pay you versus work for a paycheck. The students played the CASHFLOW ® Classic How to Get out of the Rat Race Game, and it was fascinating to see the different risk levels assumed.
As a follow-up, the Foundation for Financial Freedom is currently scheduling a series of Ask Tom Live webinars with high school students at this St. Andrews College Prep School in South Africa, similar to Tom Wheelwright's monthly Ask Tom Live webinars for professionals.
As an international Rich Dad Speaker and Advisor, who has spoken to 100k+ entrepreneurs on stage, Wheelwright's webinar topics for youth will cover investment options, ways to set up a business, how to save on taxes and financial education topics that are never discussed in school.
One of the key concepts of the Foundation for Financial Freedom is "Pay it Forward" thru financial education. During the St Andrews College Prep School visit in July, the 11th graders agreed to teach the financial education principles learned to the less privileged students in their community. Students embraced this program, and one teacher commented, "The kids certainly were taken out of their comfort zone to think laterally. It was definitely something I wish that I had heard at the age of 17!"
Some of the key principles of this Foundation for Financial Freedom include:
1. Everyone deserves a financial education.
2. It's important to "Pay it Forward" thru financial education.
3. Everyone should learn to invest in assets that pay you versus live for a paycheck.
4. The CASHFLOW® Game is a powerful financial education tool everyone should play.
5. Your financial freedom is closer than you think.
In his teens, Tom learned financial principles from his mother, who was the Controller for his father's printing company. Tom feels fortunate that financial education was part of their dinner table conversations. Mr. Wheelwright is also an avid reader and will recommend a "Financial Freedom Book of the Month" as part of this new foundation.
By the end of 2016, Tom Wheelwright will have spoken on all six continents with Robert Kiyosaki as part of a global Rich Dad financial education tour. Their goal is to teach entrepreneurs, small business owners and investors how to maximize their results. In October, Tom will be speaking in Finland, Estonia, Moscow and Kiev.
For a timely interview with Tom Wheelwright, please contact
Liz Kelly, Goody PR, 310-987-7207
Bio
Tom Wheelwright is a leading tax and wealth expert, Best-Selling Author (Tax-Free Wealth), CPA, and CEO of ProVision Wealth. Tom is best known for making taxes "fun, easy and understandable", and specializes in helping entrepreneurs and investors build wealth through practical and strategic ways that permanently reduce taxes. Tom is a Rich Dad Advisor to Robert Kiyosaki ("Rich Dad Poor Dad"), and an International Speaker at Rich Dad conferences worldwide. Tom is a Contributor to Entrepreneur Magazine, and his work has been featured in Forbes, Investor's Business Daily, Accounting Today, Newsday, ABC News Radio, Consumer Reports, Money Radio 1510 Business for Breakfast, AZTV and many more media. http://taxfreewealthadvisor.com