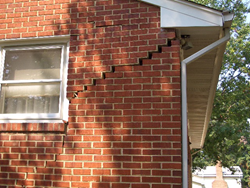 It is important for homeowners to understand how extreme temperatures have the potential to introduce foundation problems. Dry summer weather drains moisture from the ground causing the soil beneath a house to shrink and crack open."
(PRWEB) June 24, 2015
JES Foundation Repair (JES), a leading regional engineering solutions firm, has spent over 22 years solving foundation problems for homeowners and businesses in the mid-Atlantic region. JES, which is owned and operated by professional engineers, specializes in the design and installation of residential and commercial foundation support systems and has extensive knowledge of how weather conditions can adversely affect home foundations.
"It is important for homeowners to understand how extreme temperatures have the potential to introduce foundation problems. Dry summer weather drains moisture from the ground causing the soil beneath a house to shrink and crack open," said Jesse Waltz, P.E., owner and president of JES Foundation Repair. "The dried-out soil eventually pulls away from the foundation and is no longer able to support the weight of the home. Such movement creates a space for the home to sink into, which is more commonly known as foundation settlement."
Clay soils are known to shrink during periods of extreme heat and swell after rain or flooding. When it rains, the soil holds water and subsequently, expands. In many cases, expansive soils are to blame for crumbling foundations.
"The cycle of dry, almost drought-like conditions followed by heavy rain can do a number on your home's foundation," said JES Chief Inspector George Frates, who has over 30 years of experience in the industry. "I've been to houses where the foundation has deteriorated due to shifting soils and it's not pretty — or safe. These homes, regardless of when they were built, are at risk of possible foundation failure."
Typically, when one part of a structure settles more than another part, this leads to cracks in the foundation. As the soil under a home shifts, the result is vertical movement. The house will sink, settle and eventually sag. Any movement in a home's foundation can cause trouble — even a slight shift can disturb its appearance and structural integrity, no matter how stable it seems. Foundation problems can also hurt the resale value of a property. The symptoms of foundation failure usually manifest over time and are present in older homes as well as newer properties. According to Waltz, common signs of foundation issues include:

Chimney separating from the rest of the house
Vertical or "stair-step" cracking in brick and concrete block walls
Doors and windows are not aligned and do not open or close properly
Cracks extending from the corners of any windows or doors including the garage
Floors that are uneven or bouncy
Bowed basement walls
"The natural tendency is to seek a quick fix and risk further damage to your house. Simply put, it is not worth gambling the value, safety and longevity of your residence by failing to address a possible issue," Waltz said. "Most problems start off small but after being neglected or mishandled, can transform into something serious. As time passes, foundation damage can worsen and as a result, the repair costs increase."
Construction on poorly compacted soil can also lead to foundation failure. The best way to determine if a property has foundation problems is to schedule an inspection with a reputable foundation repair company. A foundation repair professional, who has solid experience evaluating structural issues, can help put concerns to rest and extend the life of the residence. Homeowners can gain peace of mind knowing exactly what is happening under their house, as well as options for fixing the problem once and for all. Solutions for stabilizing a foundation in distress include push piers, helical piles and SmartJack™ stabilizers.
"Oftentimes, homeowners may not consider how weather can compromise the structural integrity of their house. Drought, flooding, snow, humidity and extreme heat can all diminish your home's performance and its ability to withstand future weather events," Waltz said.
JES Foundation Repair encourages homeowners who notice any signs of foundation problems, to schedule a foundation inspection as a precautionary measure.
About JES Foundation Repair
JES Foundation Repair, established in 1993, designs and installs foundation support systems, crawl space moisture management systems and basement waterproofing systems in residential and commercial properties. Headquartered in Virginia Beach, JES Foundation Repair has been included in the Virginia Chamber of Commerce "Fantastic 50" four times and is consistently recognized as one of the fastest-growing companies in Virginia. In addition to several worldwide industry awards for sales, JES Foundation Repair has been listed multiple time among the Best Places to Work in Hampton Roads. It has also received the Small Business of the Year Award by the Hampton Roads Chamber of Commerce. The company has three offices that serve Virginia, Maryland, Washington, D.C., and northeastern North Carolina. For more information, visit http://www.jeswork.com.