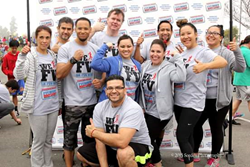 More than 700 runners and 50 volunteers participated...
Fountain Valley, Calif. (PRWEB) March 05, 2015
The Fountain Valley 5K Fun Run has been held annually for the past eight years, consistently raising tens of thousands of dollars for local charities and non-profit organizations. This year, with the help of its named sponsor, Fountain Valley Fit Body Boot Camp, the event was larger and raised more money than ever before.
More than 700 runners participated in the event with the dedicated support of 50 volunteers. Along with the 5K Run for the participants and a one-mile course for children under 12, the event included a Health Exposition sponsored by Healing Horizons Day Spa, Farm Fresh to You, Nutrishop Huntington Beach South, New American Yogurt, Muscle Werks D-fine 8, Sensitive Sweets, Bodyworks Boutique, Orange Coast Memorial Hospital, and Rosy Dental. All proceeds were donated to a profit organization designated by the Fountain Valley Community Foundation.
Awards were distributed to the top three finishers in each group, separated by gender and age. The fastest overall time was 17 minutes. Winner of the unofficial and friendly competition, Fountain Valley High School students received more awards than any of the other attending high schools schools.
Each of the registered runners has designated an organization of their choice to which a portion of the $20,000 raised during the event will be donated. These 30 individual recipients include local high school and middle school booster clubs, the Fountain Valley High School Cheer and Band programs, and the Fountain Valley Rotary Club.
What set this year's run apart from all previous years was the addition of new Fit Body Boot Camp themed obstacles. These workout stations, placed throughout the entire five-kilometer track, consisted of battle ropes, agility ladders and sand bags. Fountain Valley Fit Body Boot Camp clients volunteered to man the stations, showing participants how to safely use the equipment and pass the obstacles. The fitness center also provided giveaways to the participants, handing out free goodie bags and t-shirts designed by sponsors Level 27 Media. Additional sponsors included Fountain Valley Regional Hospital, Mimi's Jewelry, Pacific Premier Bank, Memorial Care Hospital, Seedan Photography, and Fountain Valley Living Magazine. Additional sponsors included Studio OC,
Fountain Bowl, and Carmel Village.
The event was attended by numerous prominent local figures, including Mayor Steve Nagel, Council Woman Cheryl Brothers, Councilman Larry Crandall, Community Services Manager Rob Frizzelle, Board of Trustee Sandra Crandall, and Chamber of Commerce CEO and President Mary Parsons.
About Fountain Valley Fit Body Boot Camp:
Fountain Valley Fit Body Boot Camp is a part of the Fit Body Boot Camp family of indoor fitness boot camps, whose global goal is to engage 20% of the world's population in a healthy and fit lifestyle by the year 2020. Fountain Valley Fit Body Boot Camp is owned and operated by Sam and Zenia Joyner. The Joyners are committed to helping members of the Fountain Valley community set and accomplish their own health and fitness goals.
For more information about Fountain Valley Fit Body Boot Camp, please call:
(714) 794-5224
Visit their website at:
http://www.fitbodybootcamp.com/fountainvalleyfitnessbootcamp/
Or their Facebook page at:
https://www.facebook.com/FitBodyBootCampFV