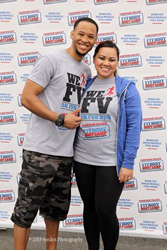 Our larger commitment to the people of Fountain Valley goes beyond just fitness.
Fountain Valley, Calif. (PRWEB) June 19, 2015
The first ever Fountain Valley Fit Body Boot Camp Bone Marrow Downer Registration Drive was held on June 15 at 16560 Harbor Blvd. Ste. D, Fountain Valley, CA. A massive success, the drive registered many new donors who will help save the lives of blood cancer sufferers across the country.
Fit Body Boot Camp is the world's fastest growing and most popular indoor fitness boot camp brand, with hundreds of locations worldwide. The boot camp's unique brand of fitness combines individualized personal training from licensed professionals, clinically proven Afterburn workouts, and nutritional guidance to guarantee weight loss results.
The Fountain Valley Fit Body Boot Camp is well known for its constant support of the local community. In addition to its boot camp fitness program that helps hundreds of residents lose weight, burn fat, eat healthy and get into shape, it's also known for holding the annual Fountain Valley Fit Body Boot Camp 5K Fun Run and hosting the Netherlands Special Olympics Athletic Team during the Los Angeles Special Olympics. This bone marrow registration drive is the newest addition to their growing list of community outreach programs.
Owners Sam and Zenia Joyner have dedicated themselves and their boot camp to helping Fountain Valley residents improve community health standards, which includes more than the weight loss and fitness offered by their facility.
The Joyners said: "According to Delete Blood Cancer, the organization helping us host this drive, a patient is diagnosed with a blood cancer every four minutes— every 10 minutes one of those patients losses their battle. In fact, leukemia kills more children every year than any other cancer.
"Bone marrow transplants can help fight this battle, but of the 10,000 leukemia patients who will need donors in the next year only half will find the help they need. That's why we committed to supporting this program.
"We're here to do more that just teach people how to live healthy lives through exercise and nutrition. As important as that mission is, our larger commitment to the people of Fountain Valley goes beyond just fitness. With this bone marrow donor registration drive we've invested in yet another method for keeping our community healthy."
About Fountain Valley Fit Body Boot Camp:
Fountain Valley Fit Body Boot Camp is a part of the Fit Body Boot Camp family of indoor fitness boot camps, whose global goal is to engage 20% of the world's population in a healthy and fit lifestyle by the year 2020. Fountain Valley Fit Body Boot Camp is owned and operated by Sam and Zenia Joyner. The Joyners are committed to helping members of the Fountain Valley community set and accomplish their own health and fitness goals.
For more information about Fountain Valley Fit Body Boot Camp, please call:
(714) 794-5224
Visit their website at:
http://www.fitbodybootcamp.com/fountainvalleyfitnessbootcamp/
Or their Facebook page at:
https://www.facebook.com/FitBodyBootCampFV