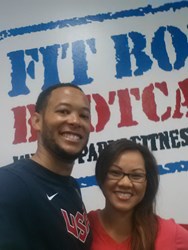 As previous members to now owners at another local Fit Body Boot Camp, we saw firsthand how the program changes and inspires lives.
Fountain Valley, CA (PRWEB) August 30, 2013
On Saturday, September 7th, owners of the new Fountain Valley fitness center, Fit Body Boot Camp, will host a Grand Opening event open to the public and donate all proceeds to Colette's Children's Home, a local charity whose mission is to provide services to homeless women and children.
Starting at noon on Saturday and continuing until 3pm, activities for the Grand Opening will include games and raffles for attendees as well as fun fitness challenges. Popular local businesses like Lorna Jane, a company that designs trendy fitness apparel will have a special discounted rate on items for attendees, and Sensitive Sweets, a baking company that specializes in custom cakes and desserts for those with food sensitivities dietary restrictions have partnered with Fountain Valley Fit Body Boot Camp.
Owners of the new Fountain Valley gym, Zenia and Sam Joyner, say they are thrilled to be opening a Fit Body Boot Camp in the area and hopes that the Grand Opening will bring people together for a great cause.
Zenia explains, "We chose the charity Colette's Children's Home because homelessness is a big problem that still needs to be addressed, especially in our area. This charity provides single mothers and children with a safe environment where they can obtain the support and services they need to get back on their feet. We want to give back to our community."
Zenia and Sam, who were previous Fit Body Boot Camp members, admit that they got into personal training because of the impact that the fitness franchise has had on their lives and wanted to share Fit Body Boot Camp's Unstoppable Fitness Formula with the Fountain Valley community.
They explain, "As previous members to now owners at another local Fit Body Boot Camp, we saw firsthand how the program changes and inspires lives. We both know that being healthy is a lifestyle. With all the encouragement, positivity and support surrounding us, there was no question or hesitation in joining the Fit Body Boot Camp family as owners. Our continuous goal is to help others reach their own goals and educate our clients about living a healthy lifestyle, just as we have experienced."
About Fountain Valley Fit Body Boot Camp
Fit Body Boot Camp Fountain Valley is part of the family of Fit Body Boot Camp fitness boot camp franchises, whose global initiative is to expose and engage 20% of the world's population in a healthy and fit lifestyle by the year 2020. Fit Body Boot Camp Fountain Valley is owned and operated by Zenia and Sam Joyner. Every workout session is led by an experienced, certified Fountain Valley personal trainer and is designed to be fun, supportive and challenging, while burning maximum fat, in minimum time. Sam and Zenia are committed to helping members of the Fountain Valley community set and accomplish their own health and fitness goals, and to positively change their lives. For more information about Fit Body Boot Camp Fountain Valley or the Fit Body Boot Camp franchise, please visit https://www.facebook.com/FitBodyBootCampFV and http://www.myfitbodybootcamp.com/