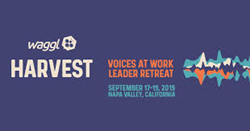 "Waggl Harvest 2019 will bring together true game-changers working to shift the way companies operate by bringing people from every part of their organizations into important conversations about innovation and culture," said Craig Bardenheuer of create-innovate-operate, Harvest Advisory Team Member
SAUSALITO, Calif. (PRWEB) July 31, 2019
Waggl, the leading platform for real-time feedback powered by Employee Voice, today announced additional speakers for Waggl Harvest, its signature annual leadership event, in Napa Valley at the Charles Krug Winery, September 17-19, 2019.
"Waggl Harvest 2019 will showcase real stories about how organizations like Heineken, UCHealth, Freddie Mac and others have developed best practices around sustainable organizational performance," said Michael Papay, Co-founder and CEO, Waggl. "Attendees will leave feeling energized and empowered by new approaches to talent strategy."
Here are four mission-critical things you'll learn at Waggl Harvest 2019:

How to leverage Employee Voice around vital initiatives like culture, strategy and operations
How to guide leadership and manager buy-in around transparency and real-time feedback
Why organizations are utilizing Employee Voice to replace or augment employee surveys
Why inclusion is the single most powerful strategy to drive performance and talent engagement
"I gained insights and learned new tactics that I am already planning to use within my organization," said Maura Hamilton, Strategic Communication Partner, Millipore Sigma, after attending Waggl Harvest 2018.
The best way to learn is from others. Waggl has assembled a treasure trove of brilliant Harvest speakers who will share how they have increased engagement, enhanced culture, aligned teams around goals, implemented change initiatives, activated talent and more. Here are just a few of the folks who will be speaking at Waggl Harvest 2019:

"Waggl Harvest 2019 will bring together true game-changers working to shift the way companies operate by bringing people from every part of their organizations into important conversations about innovation and culture," said Craig Bardenheuer, Founder and Principal, create-innovate-operate and Waggl Harvest 2019 Advisory Team Member.
To learn more about Waggl Harvest and watch a video from last year's event, please visit https://www.waggl.com/harvest/. In order to receive the early bird discount, please register today.
About Waggl
Waggl is the voice of people at work. Not a survey, not simply data -- Waggl is a real-time, transparent engagement platform that goes beyond measurement to catalyze authentic dialogue and alignment around critical business topics: Employee Engagement, Culture Building, Internal Transformation, and Operational Excellence. Waggl elevates Employee Voice to deliver actionable insight, fresh perspective, and tangible knowledge to leaders and teams. People thrive when you engage their voices to make a difference. Organizations excel when their unique talent DNA helps strengthen agility, resilience and retention. Waggl is the most powerful Employee Voice platform used by strategic HR and Executive leaders today.
With a highly-seasoned management team and advisors including esteemed executives from Glassdoor, SuccessFactors, and Coupa, Waggl has built a customer-first culture that values strong relationships and ongoing innovation. The company's solutions are continually evolving in response to input from its global customer base, which includes industry leaders such as Paychex, ebay, City Electric Supply, UCHealth, American Public Media, and Freddie Mac, and many others. For more information, please visit: http://www.waggl.com/.
# # #