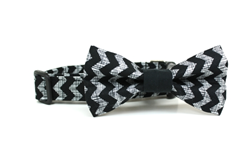 This black and white collar has a fun yet regal feel...
Detroit, MI (PRWEB) August 14, 2014
Four Black Paws (http://www.4BlackPaws.com) will participate in GBK's 2014 Primetime Emmys Celebrity Gift Lounge, in association with The Artisan Group®, where its Black Chevron Removable Dog Collar Bow Tie will be gifted to celebrities and members of the press stopping by The Artisan Group exhibit. In addition, the designer dog apparel company will have it Blue and White Seersucker Dog Collar and Bow Tie Set showcased on display. The by-invitation-only Gift Lounge takes place August 22-23 at an exclusive location in Beverly Hills, California.*
The gifted Bow Tie ($14.99 at 4BlackPaws.com) is made from 100 percent cotton designer fabric and backed with interfacing so the bow tie retains its shape. It fits collars up to 1 inch wide and is designed to be removable with two loops of double-sided Velcro. The Bow Tie comes in sizes extra small, small, medium, large and extra-large.
"This is an easy way to dress up a collar that your pup may already have," noted designer/owner, Sarah Struett. "Also, one size fits all so there is no right or wrong size for your dog. We offer lots of great patterns to choose from, but I especially love this black chevron print for its fun yet regal feel—it felt like the perfect fashion nod to this elite award show."
In other Four Black Paws News:

The company recently sent three different collar and bow tie sets to actress Christy Romano for her dog to wear. One set was requested specifically to be worn by Christy's pup at her upcoming August nuptials.
A Grassy Meadow Plaid Dog Bow Tie and Sweet Summertime Dog Collar Flower was gifted to celebrities and members of the press at GBK's Luxury Gift Lounge for the 2014 MTV Movie Awards in April.
Selections from Four Black Paws' Organic Collection were included in an exclusive The Artisan Group Collaborative 2014 Earth Day Gift Bag, delivered to some of Hollywood's most eco-conscious celebrities, including Jessica Alba, Emma Watson, Edward Norton, Adrian Grenier, Will.i.am, Robert Redford, Leonardo DiCaprio, Drew Barrymore and others.
The company's Union Plaid Dog Collar was included in DAYSPA Magazine's 2014 Valentine's Day Gift Guide.
Read more Four Black Paws press.
Four Black Paws couture dog accessories are available at 4BlackPaws.com, at select craft shows in the upper Midwest and at numerous shops and veterinary clinics around the country, including Just Dogs Gourmet, Saugatuck, MI; Purely Michigan, St. Joseph, MI; East Town Veterinary Clinic, Grand Rapids, MI; Decadent Dogs, South Haven, MI; Gnarly Dog Doggie Day Care, Narragansett, Rhode Island and many others.
To learn more about Four Black Paws, contact Sarah Struett by email. Follow the company on Facebook (FB.com/4blackpaws), Twitter (@4blkpaws) and Instagram (@4blkpaws).
For press inquiries regarding The Artisan Group, visit theartisangroup.org.
*This event is not affiliated with the Primetime Emmy show; Four Black Paws is not in any way affiliated with the Academy of Television Arts & Sciences.
About Four Black Paws
Four Black Paws (http://www.4blackpaws.com) is the home of stylish, reasonably priced designer dog collars and accessories handcrafted to order in Saint Joseph, Michigan, U.S.A. by Sarah Struett.
Four Black Paws dog collars and collar flowers are in the hands of actress Kaley Cuoco and her Norman and Shirley, celebrity chef and television personality Rachael Ray and her Isaboo, as well as actors Ryan Gosling and Amanda Seyfried and their pups. Four Black Paws products have been selected for inclusion in exclusive celebrity swag bags presented at pre-award show gift lounges for the MTV Movie Awards, the Oscars and the Primetime Emmys, and were also in the Official Celebrity Gift Lounge for the 46th Annual CMA Awards.
In 2013, Four Black Paws' Chevron Bag Dispenser was named by Country Living Magazine as one of its "11 Great Gifts for Dog Owners" and the company's Dog Collar Bow Tie was selected for inclusion in DAYSPA Magazine's 2014 Valentine's Day Gift Guide.
Sarah is a confirmed animal lover and "mom" to three lovely dogs, Leila, Gunnar and Cooper. When not working, Sarah can often be found cheering on one or more of her charges in competitions and sporting events such as dock jumping, weight pull and conformation.
Four Black Paws is available at http://www.4BlackPaws.com and pet-friendly boutiques across the country.